Rangers nab 19 suspects during search operations in Karachi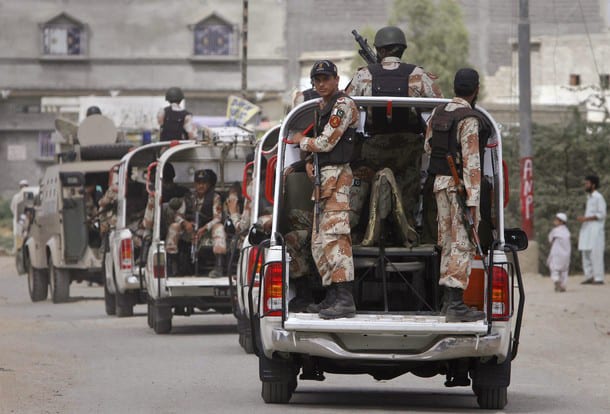 KARACHI: Pakistan Rangers Sindh on Saturday claimed to have arrested 19 suspects, including robbers and drug peddlers, during raids in different parts of the metropolis.
According to a spokesperson for the Sindh Rangers, the paramilitary military forces conducted different search operations Ferozabad, Shah Latif Town Jackson, Baldia town, Korangi Lyari's Kalakot areas and apprehended 19 criminals for their alleged involvement in a number of street crime, drug peddling and robbery cases.
The suspects were identified as  Muhammad Rehaan, Sheroz, Javaid, Muhammad Shahzad, Waqas Ali, Muhammad Arif aliasTano, Ghulam Sakhi, Saeed Khan, Muhammad Niaz, Ekramullah, Shahruk, Sadaqat Ali,  Aqib Akhtar, Usma, Raju, Junaid alias Kala, Abid Ali and Amir.
Separately, the rangers personnel conducted target raid in Malir and Madina Colony areas and nabbed three drug peddlers, Abdul Latif, Talha and Latif Shah involved in supplying narcotics in the different parts of the city from other provinces.
The Rangers also claimed to have recovered arms and ammunition, drug and contrabands from the possession of arrestees.
Later, they were handed over to the police for further legal formalities, said the spokesman.