Rana Sanaullah's judicial remand extended by 7 days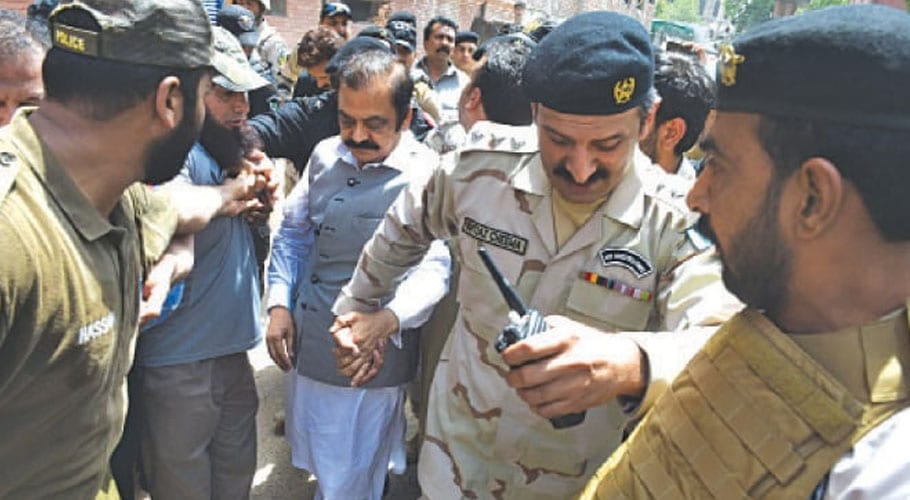 LAHORE: An anti-narcotics court has extended the judicial remand of Pakistan Muslim League Nawaz (PML-N) leader Rana Sanaullah for 7 days in the narcotics case.
The Anti-Narcotics Force (ANF) officials presented Rana Sanaullah before the court as his judicial remand expired today.
The court proceedings were boycotted by the lawyers as a dispute occurred among the police, lawyers and PML-N workers.
Read more: Rana Sanaullah case: Lives of witnesses in danger, says Afridi
On 4th December, Sanaullah's bail plea in a drug smuggling case was rejected by the Lahore High Court (LHC).
On 1st July, Rana Sanaullah was arrested by the ANF in a narcotics case and the next day a judicial magistrate sent him to jail on judicial remand.
ANF claimed that it had seized a large number of drugs in possession of Sanaullah and lodged a case under section 9 (C) of Control of Narcotic Substances Act 1997.
Both sections carry the death penalty, life imprisonment or a jail-term that may extend to 14 years along with a fine up to Rs.1 million.
Also read: ANC dismisses Rana Sanaullah's bail plea in drug case