Qatar inaugurates third venue for 2022 World Cup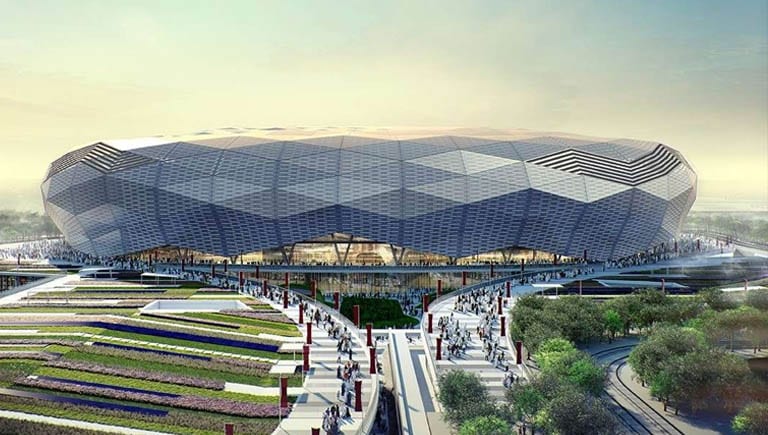 DOHA: Qatar has inaugurated the third venue for the 2022 World Cup on schedule and is set to host matches until the quarterfinal stage of the tournament.
The Education City stadium was formally inaugurated with an online programme celebrating the contribution of frontline workers and medical staff during the coronavirus pandemic. The highlight of the programme was a speech by Emir of Qatar, Sheikh Tamim bin Hamad Al Thani.
The Education City stadium, nicknamed 'Diamond in the Desert', has a capacity of 40000 and has advanced technology like the stadium cooling and other such features. The Qatar World Cup does not start until November 2022.
The arena's capacity will be reduced by half and 20,000 seats will be donated to build stadiums in developing countries to help develop a passion for the game around the globe.
"This is an opportunity for all of us to learn from each other," said Hassan Al-Thawadi, the general secretary of the Qatar organizing committee. "We are maybe in a better position than most in the sense that we have two years ahead where we can learn from other people's experiences."
FIFA President Gianni Infantino also paid tribute to the frontline workers around the world before expressing confidence that football will return to normal ahead of the 2022 World Cup.
"Tonight, while announcing the completion of the Education stadium, we pay a tribute to those who fought and are still fighting the Covid-19 pandemic. We must not forget, health comes first. In some parts of the world, it is possible to look ahead. In others, we still have to be careful. The new stadium reminds us that football will return with more passion than ever. When time comes, we will be sharing the stands with family and friends. When time comes, we will celebrate the 2022 World Cup in Qatar," he said.
Nasser Al Khater, CEO of the 2022 World Cup in Qatar, said: "The atmosphere will be electric at Education City Stadium when it hosts matches during the World Cup. This is a football lover's stadium and one we are certain fans from around the world will enjoy during Qatar 2022."
The construction of Khalifa International Stadium and Al Janoub Stadium is already complete and the two venues are operational.