PTI worker Ali Bilal (Zille Shah) not killed by torture, claims Caretaker CM Punjab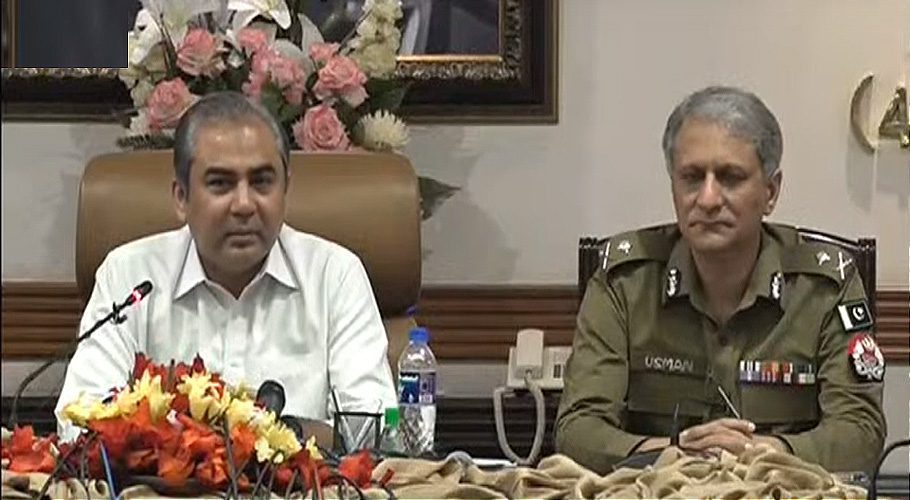 LAHORE: The Caretaker Chief Minister of Punjab Mohsin Naqvi has claimed that according to a report he received, PTI worker Ali Bilal aka Zille Shah hasn't died due to torture.
لاہور تازہ ترین
نگراں وزیر اعلی پنجاب محسن نقوی اور آئی جی پنجاب کی علی بلال عرف ظلے شاہ کے قتل کے حوالے اہم پریس کانفرنس۔
قتل کا سارا ملبہ تحریک انصاف پر ڈال دیا pic.twitter.com/muwoPgUYUP

— MM News TV (@mmnewsdottv) March 11, 2023
Accompanied by IG  Punjab Usman Anwar,the Caretaker CM Punjab said the incident of killing of any citizen wasn't ordinary one, adding that everyone (in the government) sat and decided to kick off investigation into the death of Zille Shah.

This came after a local journalist tweeted last night that Caretaker Information Minister of Punjab accompanied by IG visited Services Hospital and seized records of all cameras, and preparations were underway to hold a presser next morning (Saturday) to shift all blame to PTI.
سروسز ہسپتال سے اطلاعات مل رہی ہیں کہ نگران وزیر اطلاعات عامر میر اور آئی جی پنجاب سروسز میں آکر چلے گئے ہیں اور مبینہ طور پر کیمروں کا ریکارڈ بھی ساتھ لے گئے ہیں اب صبح ایک پریس کانفرنس کی تیاری کی جارہی ہے جس میں ظل شاہ قتل کا سارا مدعہ تحریک انصاف پر ہی ڈال دیا جائے گا، کیا… https://t.co/lGUXpUmku8

— Najam Ul Hassan Bajwa (@NajamBajwaa) March 10, 2023
Also read: Post mortem report of slain PTI worker Ali Bilal reveals torture, excessive bleeding
Blatantly speaking contrary to facts, CM Punjab Mohsin Naqvi said in the presser that his government didn't stop anyone from conducting political activities, something he couldn't defend when imposing section 144 for just one day in Lahore ahead of PTI's planned rally from Zaman Park to Data Darbar.
PTI worker Zille Shah had lost his life while dozens of other workers including women were injured and arrested after day long clashes.
After a day, Zille Shah was dropped at Services Hospital Lahore and declared 'dead at arrival'.
A CCTV footage of a private 4X4 vehicle also emerged in which two men — in plain clothes — were seen dropping the slain worker at a hospital in Lahore where he was pronounced dead.
According to the post-mortem report, the victim had 26 marks of torture on his body.
IG Punjab Usman Anwar, speaking on this occasion, claimed that the black vigo, featuring in a viral CCTV, is owned by Raja Shakeel of PTI Central Punjab leader, adding that the same vehicle recovered with the help of 31 cameras from Waris Road Lahore.

Also read: Lahore police claim arresting suspects who dropped Ali Bilal's body at hospital
He further said that Raja Shakeel told Yasmin Rashid that a  person had been hit. He further claimed that the vehicle of Raja Shakeel contains blood stains of Zille Shah. He said Raja Shakeel went to Zaman Park the very next day of the incident.

Also read: Family of slain PTI worker Ali Bilal 'abducted', alleges Fawad Chaudhry
He alleged that a nasty storm of allegations was brewing on social media since last night, and the conspiracy to malign Police failed. IG Punjab Usman Anwar, however, added that action would be taken if police negligence was proved.

IG Punjab Usman Anwar alleged that the father of deceased Ali Bilal was offered Rs.10 million for the sole purpose of remain firm against Police. Mohsin Naqvi on this occasion added that the provincial government would extend every possible help to the family of Ali Bilal.

Mohsin Naqvi said "PTI leader Yasmin Rashid accused me of involved in killing of Zille Shah, she better do politics, is it so easy to accuse someone of  committing murder?" He advised PTI leadership to refrain from leveling allegations. He further said that instead of bowing down to 'pressure tactics' he would rather chose to step down and go home.