PSX recovers losses as KSE-100 index makes impressive gains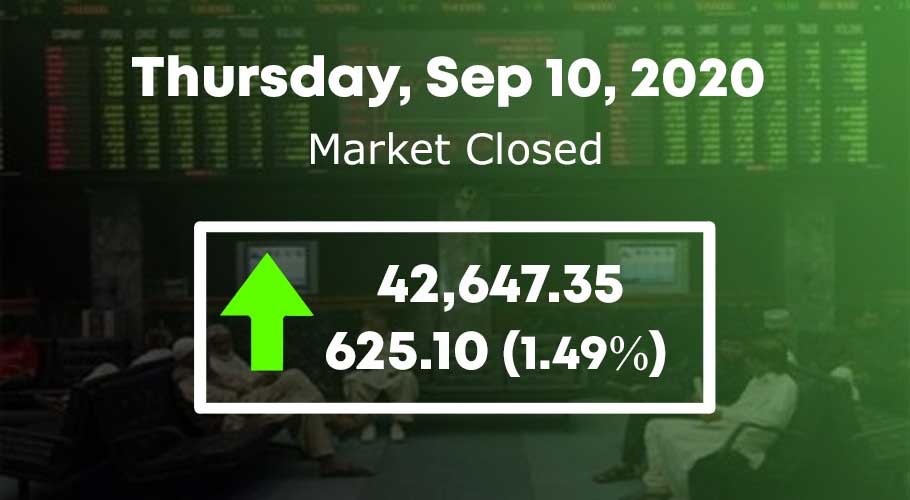 KARACHI: The Pakistan Stock Exchange (PSX) today (Thursday) made impressive gains as the benchmark index gained 625.10 points while closing at 42,647.35.
Gaining 870 points the benchmark KSE 100-index touched an intraday high of 42,896.36 in the initial hours of trading. The index lost control and dropped to an intraday low of 42,022.25.
Meanwhile, the KMI 30 index also gained 983.24 points and closed at 68,399.51 points, while the KSE All Share index settled with a gain of 517.80 points at 30,380.36. The market, however, witnessed some correction after that and settled for a 625.10 points surge, representing an increase of 1.49 percent.
A total of 498,611,619 shares were traded during the day, representing a spike of around 20 percent when compared with the previous session. The volume, however, was still lower than 514,878,894 shares recorded on Tuesday when the market had shed 310.56.
Sectors driving the KSE 100 index north included the Banking Sector and the Oil and Gas Marketing sector. Similarly, most of the commercial banks and insurance companies made significant gains. While the majority of actors in the automobile, chemical, and engineering sectors didn't have a good session.