PSX fails to retain 38,000 points level in volatile session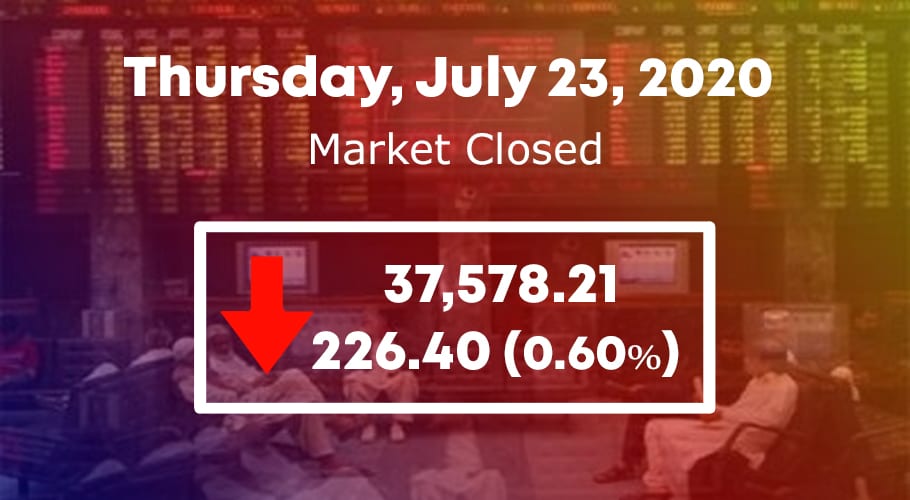 KARACHI: The Pakistan Stock Exchange (PSX) observed another volatile session on Thursday declining in the final hours of trading and lost the 38,000 points level.
The KSE 100 index gained 289.49 points in early trading and reached the 38,106.95 points but gradually declined and failed to retain the position.
The indices started to decline at noon and did not rebound before trading was suspended. The bourse declined by 226.40 points and closed at 37,578.21 points.
The lower bench KSE 30 index declined by 120.26 points and closed at 160,287.44 points. The total volume of scripts were 91.448 million. The KMI 30 index also dropped 658.12 points and closed at 60,488.87 points, the All-Share index shed 139.55 points and closed at 26.762.56 points.
The market leader was Unity Food (UNITY -1.25%) which saw a decline in share prices and traded 38.126 million shares the stock market. Unity Foods CEO Muhammad Farrukh transferred 40,000,000 shares in the company, constituting approximately 7.35% of the shareholding interest in the company to Unity Wilmar Agro (Private) Limited for an aggregate price of Rs. 400 million.
This was followed by Azgard Nine Ltd (ANL 3.62%), Fauji Foods (FFL 3.56%), and K-Electric (KEL 2.53%). The firms traded 31.223 million, 23.450 million, and 20.881 million shares respectively.
The largest contributor leading to a decline in the KSE 100 index was the cement sector (-117.90 points) while the engineering sector saw the largest change in market capitalization (-3.95%).