PSX ends volatile trading session on negative note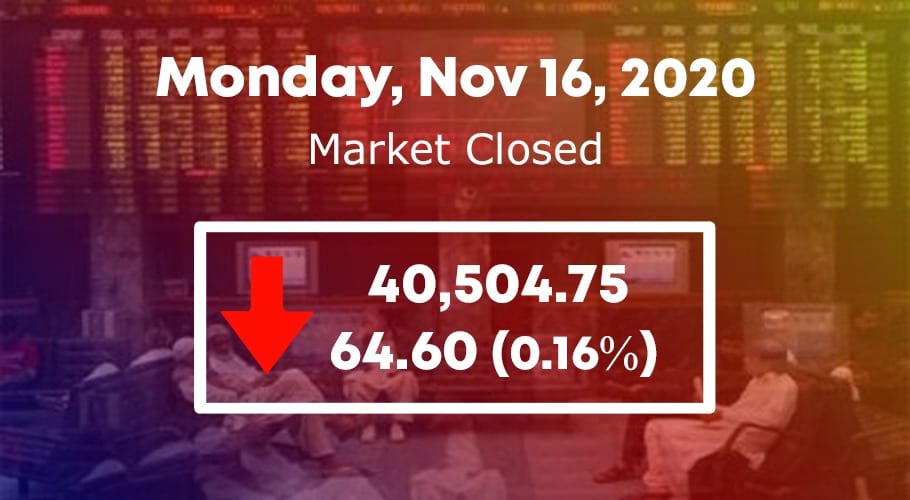 KARACHI: The Pakistan Stock Exchange (PSX) held a volatile session today (Monday) and ended the trading session on a negative note.
The benchmark KSE-100 started the day on a positive note, registering its intra-day high at 40,790.39 after gaining 221.04 points.
It, however, failed to maintain its flight, slipping to its day's low at 40,470.12 (-99.23 points). The index finally closed lower by 64.60 points at 40,504.75.  
Among other indices, the KMI-30 Index lost 219.29 points to end at 64,527.63, while the KSE All Share Index dropped 44.09 points, settling at 28,412.69. The overall market volumes declined from 243 million shares in the previous session to 181.4 million shares (-25pc).
The average traded value also dropped by 22pc, from $49.9 million to $39 million. K-Electric Ltd (KEL +5.04pc), Maple Leaf Cement Factory Ltd (MLCF +0.10pc) and Sui Northern Gas Pipeline Ltd (SNGP +0.11pc) led the volume chart, exchanging 24.91 million, 14.49 million and 14.17 million shares, respectively.
Sectors that dragged the benchmark index lower included oil & gas exploration (-45.96 points), textile composite (-28.79 points) and cement (-18.68 points).
Among the companies, Pak Petroleum Ltd (PPL -21.78 points), Oil and Gas Development Company Ltd (OGDC -19.33 points) and Lucky Cement Ltd (LUCK -18.79 points) dented the index the most. 
Shedding 2.07pc from its cumulative market capitalization, the refinery sector ended as the session's top loser, with Byco Petroleum Pakistan Ltd (BYCO -1.81pc), Attock Refinery Ltd (ATRL -2.92pc), Pakistan Refinery Ltd (PRL -1.90pc) and National Refinery Ltd (NRL -1.86pc) closing in the negative.