President Alvi addresses joint Parliamentary session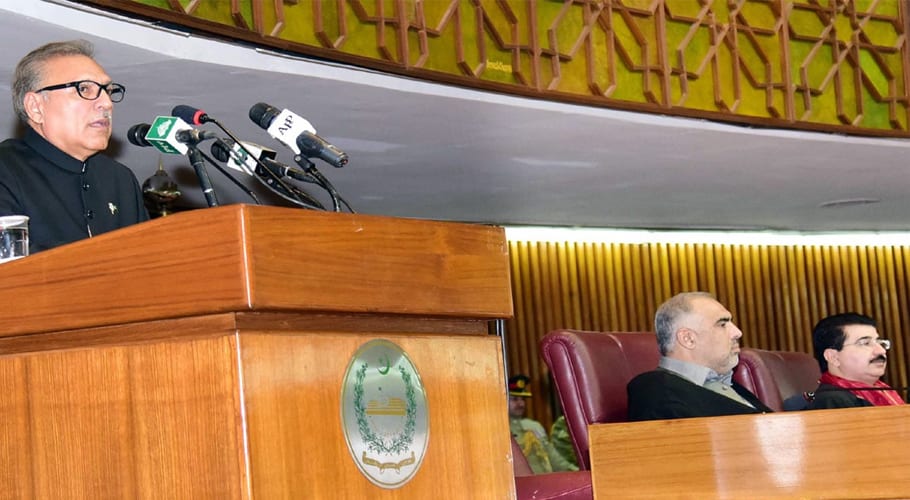 Islamabad: President Arif Alvi has addressed a joint sitting of Parliament to commence the second parliamentary year of National Assembly under the incumbent party.
Prime Minister Imran Khan, the chiefs of the navy and air force, and chairman of the Joint Chiefs of Staff Committee have attended the session. However, the opposition started to raise anti-government slogans, soon after Imran Khan arrived at the Parliament.
President Arif Alvi began his address by congratulating the lower house of parliament on completing its first year under the PTI government.
"It is my constitutional responsibility to review the parliament's performance," President Alvi said
"India has violated its constitution as well as the Simla Agreement with its illegal action. The government has raised the issue in the United Nations Security Council and other platforms very successfully. It is a huge accomplishment for the government that the UNSC held a session on the issue after more than 50 years, despite India trying its best to prevent that from happening. [I] thank the friendly countries that understood the seriousness of the Kashmir issue, especially China, and raised it in the UN," the President said. The president also acknowledged and appreciated what he called a successful visit by the prime minister to the United States.
"Pakistan is with its Kashmiri brethren. We will continue to extend moral support; we were, we are and will always be with the Kashmiris. India's illegal actions have threatened peace in the region. Pakistan has always responded to India's warmongering with offers of dialogue. Whereas, India has stepped up ceasefire violations at the Line of Control. It has always sponsored terrorism on Pakistani soil; Kulbhushan Jadhav is an example. He has confessed that he is a serving officer and was sent to ignite tensions in Balochistan."
Protest from Opposition
The political parties in the opposition benches started raising anti-government slogans when Prime Minister Imran arrived to attend the joint Parliamentary session.
Earlier, Marriyum Aurangzeb protested has that so far the Speaker of National Assembly has not issued the production orders of the arrested parliamentarians. She said it was the right of every member of the parliament to attend the joint sitting.
Presently, six opposition members are in the custody of different Law Enforcement Agencies on charges of corruption. The list of the arrested members include the names of Asif Ali Zardari of the PPP, Shahid Khaqan Abbasi, Khawaja Saad Rafique and Rana Sanaullah Khan of the PML-N and Ali Wazir and Mohsin Dawar, the two independent MNAs from Waziristan.