PM discusses COVID-19 crisis with German Chancellor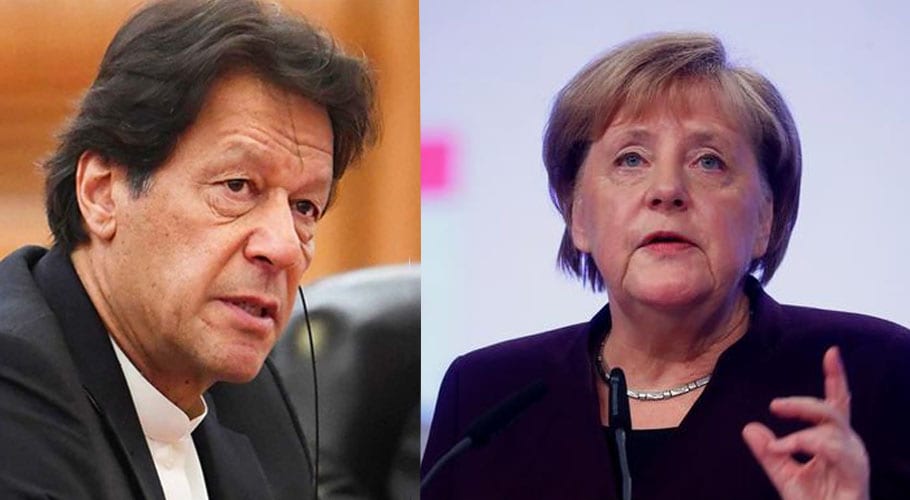 ISLAMABAD: Prime Minister Imran Khan on Tuesday held a telephonic conversation with German Chancellor Angela Merkel and discussed a range of issues after his 'Global Initiative on Debt Relief' initiative.
The prime minister emphasised that Covid-19 pandemic has unfolded in unprecedented global health and economic crisis, where developing countries will be hit harder due to lack of fiscal space and debt servicing. He said that people in developing countries face a starker choice, either death by COVID-19 or by hunger.
PM Imran underscored that ability of the developing countries to cope with the COVID-19 challenge would depend on providing urgent debt relief, at their request, and without onerous conditions.
The prime minister hoped that alongside the UN Secretary-General, countries like Germany would provide leadership to this issue in the forthcoming G20 Finance Ministers' meeting as well as spring meetings of the IMF and the World Bank.
The conversation is a follow-up call after Prime Minister Imran Khan on Sunday appealed to the leaders of developed countries, the UN Secretary-General and heads of financial institutions to provide debt relief to developing countries like Pakistan in combatting the Covid-19 crisis.
In a video message to the international community, the prime minister highlighted the difficulties being faced by the developing countries, particularly those burdened by heavy debt, in handling the situation. He said the biggest challenge for nations in the developing world was to save their people from dying of the pandemic and hunger due to extended lockdowns.
PM Imran Khan compared the difference in approaches of the developed and developing countries in the fight against the pandemic. He said developed countries were focusing on containing the virus through lockdowns and then dealing with the economic impact, while developing countries were concerned about saving people from dying of hunger apart from the virus and economic crisis.
PM Imran Khan pointed out that there was a huge difference in the resources available to developing countries and the developed world as the United States had already come up with a relief package of $2.2 trillion, Germany with a relief package of 1tr euros and Japan with $1 trillion, while Pakistan could only afford a maximum financial stimulus of $8 billion.
The prime minister has already set up a Coronavirus Relief Fund account and appealed to the people to make generous donations to help the government fight the pandemic and to provide ration and relief to people living under lockdown for almost a month.