PM announces Rs446bn development package for Sindh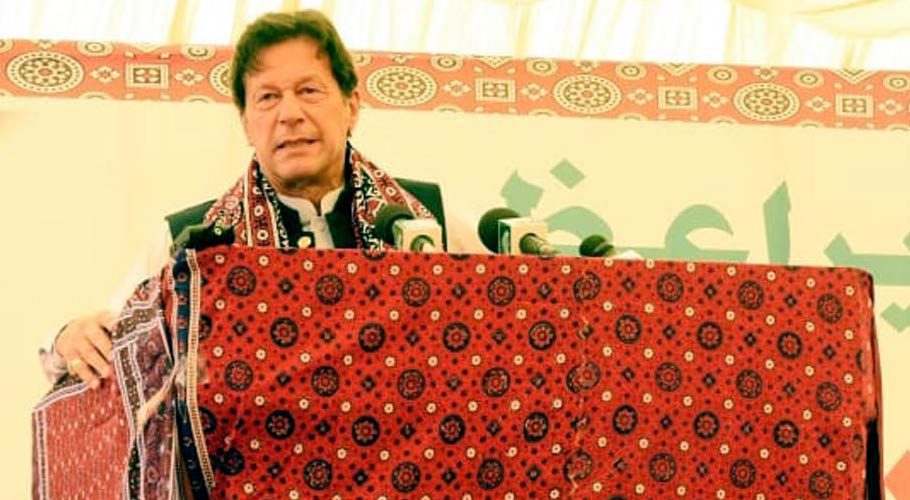 SUKKUR: Prime Minister Imran Khan has announced a mega development package worth Rs446 billion rupees for socio-economic progress of the backward districts in Sindh.
The prime minister along with the members of the federal cabinet including Shah Mehmood Qureshi, Asad Umar, Ali Zaidi, Sania Nishtar, Muhammad Mian Soomro, Usman Dar reached Sukkur on a day-long visit.
Addressing a cheque distribution ceremony under Kamyab Jawan programme, the prime minister said the materialisation of the package will begin within a month. "It will take a month for people to see the changes that our funds bring about for them," he said. 
He said the package that includes Sukkur-Hyderabad Motorway and of Nai Gaj dam will greatly benefit the people of Sindh. He said the government will make every possible effort for uplift of the backward areas across the country and help the people for improving living standards.
PM Imran Khan said the federal government disbursed 33 percent of the total funds among deserving families in Sindh under Ehsaas Programme during the pandemic. He said the network of Ehsaas Programme is being extended to 12 million people.
He said the PTI government's primary focus is to enhance the living standard of the low income people. He said the government has provided mega development projects to the backward areas across the country, including Balochistan and the tribal districts. He emphasised on increasing skills of youth said the government will take steps to develop sports grounds across the country.
He lamented the condition of villages in Sindh which were deteriorating as time progressed.  He said that he considered the people of every province, s his own people regardless of whether the PTI ruled there.
"We will focus our energies on uplifting the downtrodden people," he said. "I promise the people of Sindh that I will do everything in my power to bring about a change in your lives," he added. 
The prime minister asked the Sindh government to review its decision of cancellation of the NOC for developing Bundal Island near Karachi for economic progress of the people of Sindh as well as other parts of the country.
On the occasion, the Prime Minister distributed cheques among deserving people under Kamyab Jawan Programme. Special Assistant on Poverty Alleviation Dr Sania Nishtar briefed the prime Minister on Emergency Cash programme.