Pakistan, South Africa teams reach Rawalpindi stadium for practice session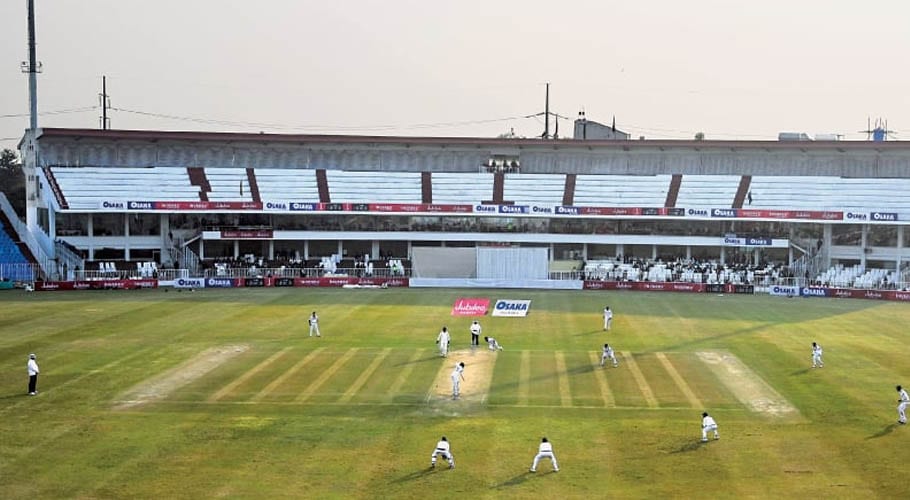 RAWALPINDI: Pakistan and South African cricket teams have reached Rawalpindi for a practice session ahead of the second Test match.
Both the teams will hold their first practice session at the Pindi Cricket Stadium today. After the practice session, Pakistan's head coach Misbah-ul-Haq will hold a virtual press conference.
The ground staff at Pindi stadium has completed preprations to host South Africa after almost 14 years. The pitch is under preparation whereas paintwork in stands is also underway. High-profile security has been deployed around the stadium and COVID-19 protocols will be strictly followed. The match will take place behind closed doors.
The second Test between Pakistan and South Africa will be played in Rawalpindi from February 4. Pakistan has a one-nil lead in the two-match Test series.
The Rawalpindi City Traffic Police (RCTP) has issued a traffic plan for the second test match between Pakistan and South Africa. According to the plan, the Stadium road will remain closed from the start to conclusion of the practice session and match.
The city's senior traffic officer has asked people to cooperate with the police performing duties during the cricket match. The traffic coming from Rawal Dam towards Rawalpindi will be directed to the Expressway.
Commuters reach Rawalpindi through Dhoke Kala Khan, Khanna and Korali. The traffic from Rawalpindi to Islamabad will take a U-turn in front of the Kidney Centre and use the opposite side to enter Islamabad.
The traffic emerging from IJP Road and 9th Avenue Chowk towards Rawalpindi can take Pindora Chungi, Katarian, Carriage Factory, Pir Wadhai routes to enter Rawalpindi instead of the Stadium Road.