UAE royals allowed to hunt rare houbara bustards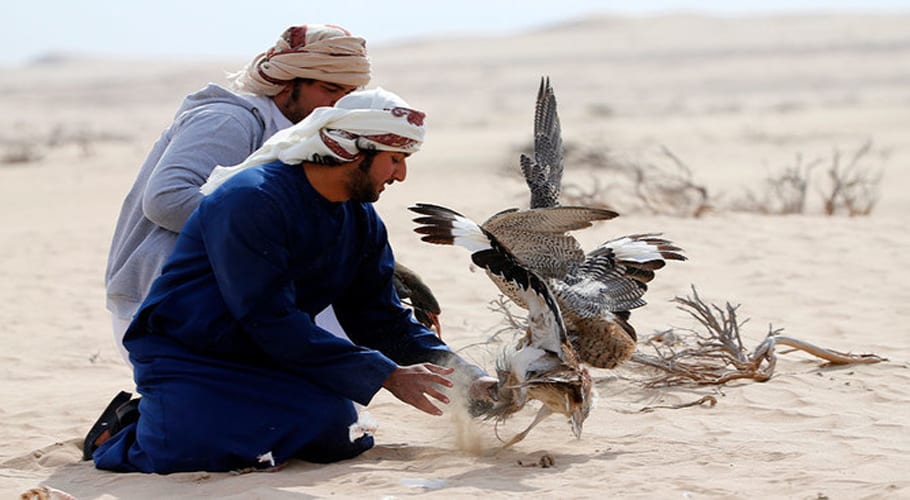 ISLAMABAD: The federal government has issued special permission to Emir of Abu Dhabi Sheikh Khalifa bin Zayed Al-Nahyan and four other members of the royal family to hunt the internationally protected houbara bustard during the 2019-20 hunting season.
According to reports, the names on the list of hunters includes the United Arab Emirates (UAE) along with his brothers and another royal family members. Sheikh Khalifa has been assigned hunting areas in three provinces of Sindh, Balochistan and Punjab.
READ MORE: Pak Suzuki to shut down its production for four days in January
The hunting permits were issued by Mohammad Adeel Pervaiz, deputy protocol head of the foreign ministry, which have been sent to the UAE Embassy in Islamabad to send them to the hunters.
As per the permits, Sukkur, Ghotki and Sanghar districts in Sindh; Panjgur, Kharan, Washuk and Gwadar districts in Balochistan, and Rahim Yar Khan and Chakwal districts in Punjab have been assigned to the UAE royal family for hunting.
Earlier on January 6, the UAE has unveiled the first multi-entry five-year tourist visa in order to boost the tourism industry.
READ ALSO: Petroleum prices jump high as Iran strikes on US bases in Iraq
The UAE cabinet, in its first meeting of the year chaired by Sheikh Mohammed bin Rashid, the prime minister and ruler of Dubai, approved the new visa policy.