NCOC directs full compliance of Covid SOPs during Eid holidays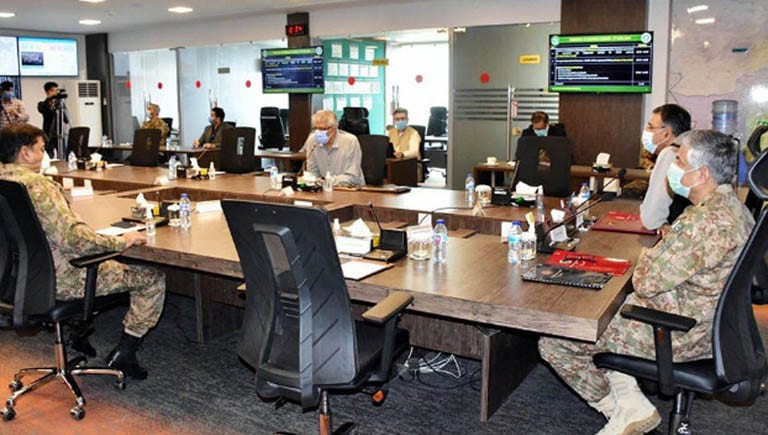 ISLAMABAD:  The National Command & Operation Cente (NCOC) has directed all provincial governments to ensure complete compliance of the standard operating procedures (SOPs)  with full administrative control during Eidul Fitr holidays.
The National Command & Operation Cente (NCOC) held on Sunday expressed concern on reported violations of the standard operating procedures (SOPs).
The NCOC session was chaired by Planning Minister Asad Umar and Lt Gen Hamood uz Zaman Khan to take a review of mobility control steps being implemented across the country from May 8 to 16, 2021. Chief Secretaries of all provinces also attended the session. A review of SOPs implementation was also carried out.
It was reiterated that during Eid holydays all markets, businesses and shops will remain closed except essential services, including grocery stores, pharmacies/medical stores, medical facilities and vaccination centres.
According to NCOC, vegetable, fruit, chicken & meat shops, bakeries, petrol pumps, food takeaways and e-commerce (home delivery), utility services (electricity, natural gas, internet, cellular networks/telecom, call centers) and media services will remain open on this occasion. Furthermore, a complete ban on tourism for both locals & outsiders will be enforced, NCOC said in the statement.
All tourist resorts, formal and informal picnic spots, public parks, shopping malls; all hotels and restaurants in and around tourist and picnic spots will remain closed during this duration.
Tourists leading to any tourism destination will be sent back and will not be allowed to enter tourist destinations. Bookings of all hotels etc have been canceled.
Ban on inter-provincial, inter-city and intra-city public transport will be imposed, except private vehicles, taxis/cabs, rickshaws with 50 percent occupancy.