National Assembly to elect new PM tomorrow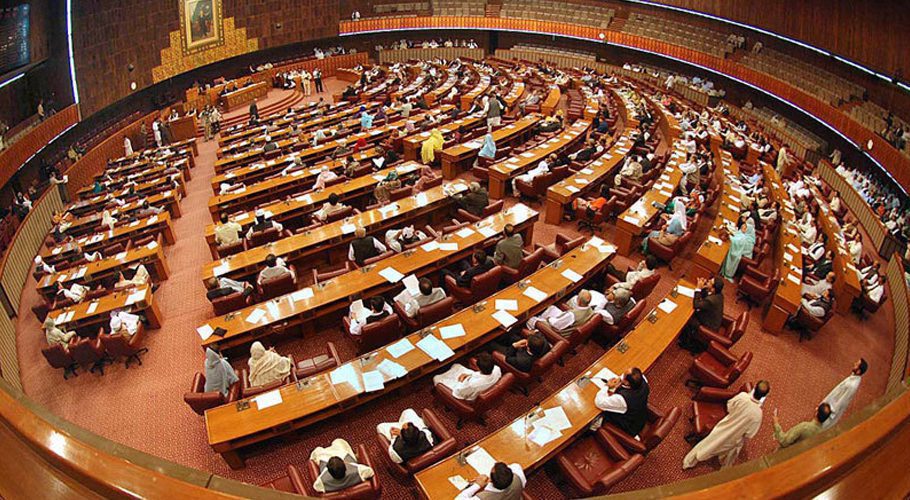 ISLAMABAD: The National Assembly will meet on Monday (tomorrow) at 2 pm to elect the new Prime Minister of Pakistan,
The NA Chair announced that nomination papers for the slot of prime minister can be submitted by 1400 hours today [Sunday], while scrutiny of the papers will be conducted by 1500 hours today [Sunday]. He said election for the office of prime minister will be held on Monday.
The Chair adjourned the House to meet again on Monday at 11:00 am, which now has been rescheduled at 2pm.
The opposition parties in the National Assembly on Sunday defeated the ruling PTI government in the no-confidence resolution they jointly moved against Prime Minister Imran Khan with 174 votes, setting a new precedent in parliamentary history of the country for in-house change through a democratic and constitutional manner.
Read more: Imran Khan served 1,332 days as Pakistan's PM
 In the 341-seat House (excluding a seat that fell vacant due to demise of MNA Khayal Zaman Orakzai), the unified opposition secured 174 votes after Member of Panel of Chairpersons Ayaz Sadiq asked for the simple division in favour and against the resolution for physical-count of the members.
The resolution, carrying names of 152 movers, was presented by Leader of the Opposition Shehbaz Sharif on March 28 under Article 95(1) of the Constitution, read with rule 37 of the Rules of Procedure and Conduct of Business in the National Assembly, 2007 that stated "This House is of the view that the Prime Minister of Pakistan, Mr. Imran Khan, has lost the confidence of the majority of the members of the National Assembly of Pakistan, therefore he should cease to hold office."