Rana Sanaullah's judicial remand extended by 14 days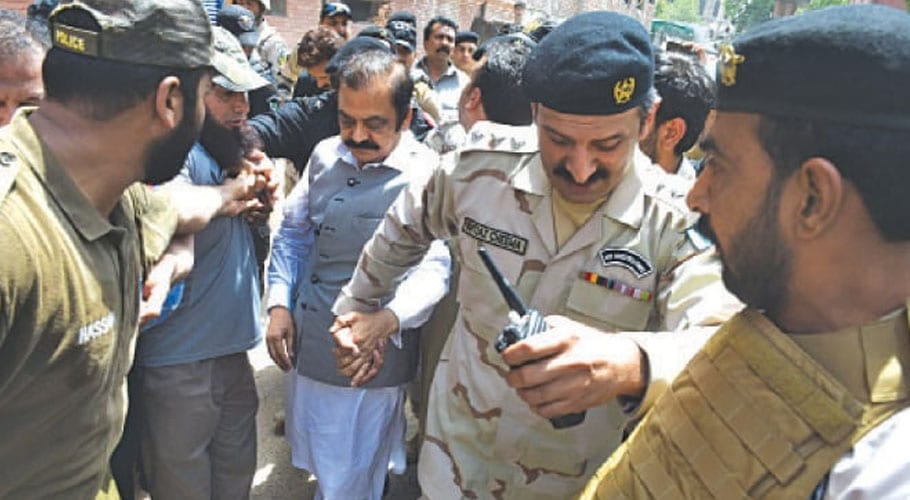 LAHORE: An Anti-Narcotics Court has extended the judicial remand of Pakistan Muslim League (N) PML-N leader Rana Sanaullah in the narcotics case for 14 days.
The Anti-Narcotics Force (ANF) officials presented Rana Sanaullah before the court as his judicial remand has expired today.
Judge Khalid Bashir conducted the hearing of Rana Sanaullah. The lawyer of Rana Sanaullah told the court that the ANF was using a megaphone during the inquiries with the accused.
Also read: Rana Sanaullah case: Lives of witnesses in danger, says Afridi
The court, after hearing all the arguments, extended the judicial remand of Sanaullah till 16th November.
While talking to the media outside the court, Rana Sanaullah said that Azadi March would be successful.
Sanaullah said, "Every patriotic citizen should participate in March. Prim Minister Imran Khan and Railway Minister Sheikh Rasheed Ahmed must resign after the Tezgam train fire incident."
Also read: Narcotics case: Rana Sanaullah's judicial remand extended by 15 days
In the last hearing, Rana Sanaullah's judicial remand was extended for 15 days.
On 1st July, Rana Sanaullah was arrested by the ANF in a narcotics case and the next day a judicial magistrate sent him to jail on judicial remand.
ANF claimed that it had seized a large number of drugs in possession of Sanaullah and lodged a case under section 9 (C) of Control of Narcotic Substances Act 1997.
Both sections carry the death penalty, life imprisonment or a jail-term that may extend to 14 years along with a fine up to Rs.1 million.
Also read: CNS dismisses Rana Sanaullah's bail plea in drug case