NADRA introduces mobile units for disabled, elderly applicants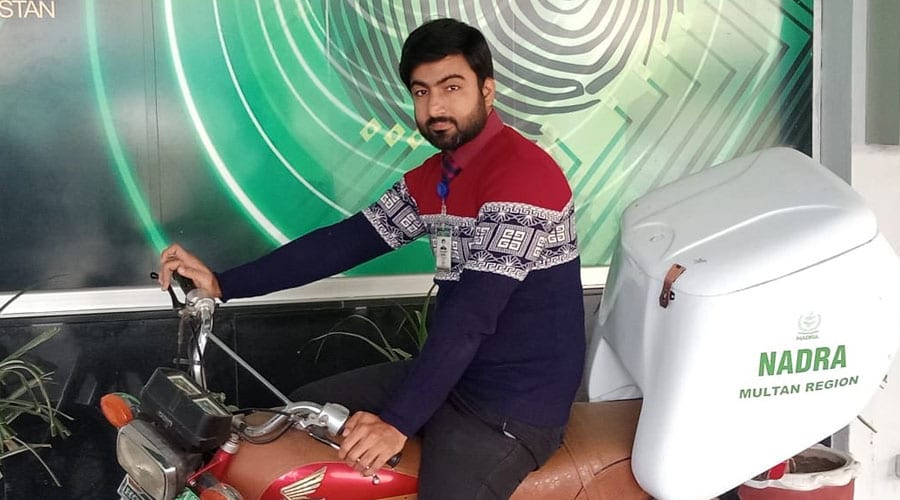 ISLAMABAD: The National Database and Registration Authority (NADRA) has introduced manpack mobile units for disabled and elderly applicants unable to visit a centre to apply for their computerised national identity cards.
The disabled, paralyzed and elderly persons only have to submit an application in any NADRA office through their blood relations.
A NADRA official will visit the residence of the disabled/elderly applicant to get all the required information. The official will submit this information in any NADRA office.
The time period for issuance of CNICs to disabled or elderly persons is the same as normal delivery which takes up to a month. An applicant applying for an urgent CNIC will get it within a week.
READ MORE: NADRA reserves Friday for women only
Earlier NADRA had reserved every Friday exclusively for women. This was stated in a report submitted to the Prime Minister Office about initiatives being taken by different Ministries and Departments regarding public welfare.
NADRA has also introduced a new policy to ease the process of getting computerised national identity cards for all applicants.
Fresh applicants are no longer required to present Form-B and get NADRA forms attested by a government officer of Grade-17 and above.
They only need to produce original matric certificates, domiciles and CNICs of their parents before NADRA officials at the time of registration.
READ MORE: NADRA makes new policy for card applicants
Blood relatives can verify particulars of applicants. All they have to do is visit a NADRA office along with the applicant.
People seeking renewal of their CNICs can also get them renewed by presenting their valid passports.
Married women do not need a computerised 'Nikahnama' (marriage document) to apply for a CNIC. They can easily apply by submitting a stamp paper.
Applicants can receive their CNIC from a NADRA office by submitting the original token issued to them at the time of registration. A relative of the applicant can also receive the CNIC, provided they have the "authority letter" from the applicant.
Officials at NADRA offices will interview all the applicants and leave their comments on the NADRA software. Residents of erstwhile tribal districts of Khyber Pakhtunkhwa can apply for CNIC from anywhere in Pakistan.
NADRA launches ManPack Mobile Units all across Pakistan exclusively for registering bed-ridden/seriously ill, special or handicapped persons at their door steps.1/2 pic.twitter.com/HuVWrpWnUO

— NADRA (@NadraMedia) November 29, 2019