My daughter is the reason I am not living with Qassam: Sanam Jung on seperation rumours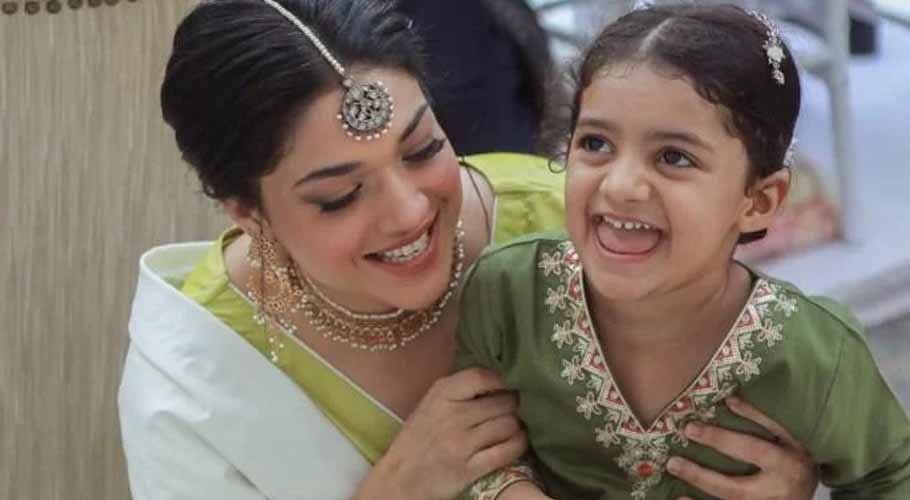 KARACHI: Actress Sanam Jung has finally revealed the reason why she is not living with her husband that sparked rumours on social media that Pakistani television artist and her husband have parted ways.
Since the rumours began circulating on social media platforms, the actress ignored and did not react or gave any justification, however, recently she has finally spoken about her marital life and during a show.
While speaking to the host during a show where she was invited as a guest, Jung talked about how people have been asking her whether she got separated from her husband, and if not, then why is she is not living with him. These queries increased after her sister's wedding which went unattended by her husband.
She finally revealed that the reason she is not living with her husband is because of their daughter. According to Jung, her husband lives in the United States as he works there, meanwhile, her work is based in Pakistan. Jung can visit her husband but because her daughter Alaya is not able to get a US visa, the duo mother-daughter cannot visit Qassam, Jung's husband in the US.
Read more: Sanam Jung, daughter test positive for COVID-19

The actress claimed that being the responsible parents, they have chosen to bear the difficulty of staying apart to ensure that the little Alaya gets to live with one, if not both her parents. "This is at least until Alaya gets her visa, after which both of us will be living with Qassam," Sanam maintained.
Sanam got married to her long time friend Abdul Qassam Jaffri in 2016, who is a pilot by profession. The couple is blessed with a daughter Alaya Jaffri. Sanam Jang started her career working in an advertisement, after which she worked as a VJ on Play TV. Sanam also acted in several dramas in her career, including 'Dil-e-Muztar', and 'Mohabbat'.