Muslim girl burnt alive for refusing to marry Hindu boy in India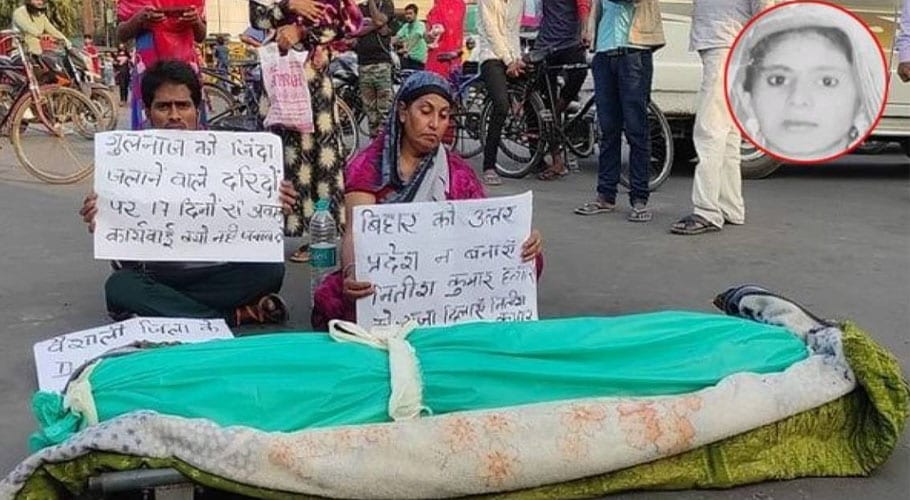 BIHAR: A Muslim girl was burnt alive for refusing to marry a Hindu boy in the Vaishali district of Bihar, India.
According to Indian media , the boy along with his friends set fire to 20-year-old Gulnaz Khatoon for refusing to marry her. An attempt was made to suppress the tragedy due to the Assembly elections.
Gulnaz Khatoon had been harassed by a young man named Satish for several months and was insisting on getting married. It is reported that more than 60 percent of the girl's body was badly burnt due to the fire.
She was burnt alive when she went out to discard household garbage. She was rushed to the hospital for medical treatment where she remained under treatment for two weeks but succumbed to her injuries.
Read more: Nagarparkar man arrested for vandalising idol at Hindu temple
On the other hand, the girl's family has accused the police of supporting the killers and not taking any action against them on purpose.
Gulnaz's family has staged a sit-in with her daughter's body against the police's behavior and to seek justice. They have demanded the Indian government to arrest and punish the culprits as soon as possible.
Indian Congress leader Rahul Gandhi strongly condemned the incident and questioned whether it was a dangerous crime to burn a girl alive or to cover up this atrocity because of elections .