Multiple cities erupt with protest as police arrive in Zaman Park to arrest Imran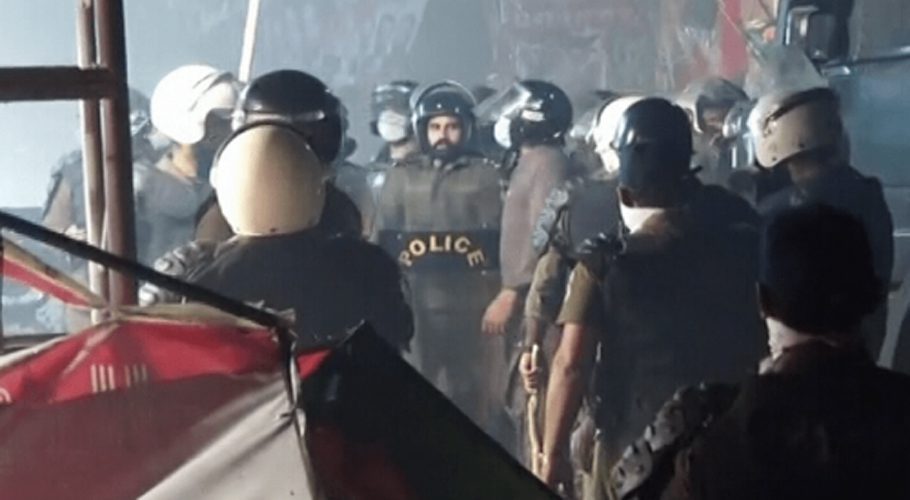 Multiple cities erupted with protest and party supporters gathered to condemn the police operation against former Prime Minister Imran Khan on Tuesday as Pakistan Tehreek-e-Insaf (PTI) leaders gave a call for nation-wide protest after a heavy contingent of police arrived in Zaman Park in Lahore to arrest party chief in relation to the Toshakhana case.
In a video message on Twitter, Imran said police had arrived to arrest him. "They think that after I am arrested, the nation will fall asleep. You have to prove them wrong," he said.
My message to the nation to stand resolute and fight for Haqeeqi Azadi & rule of law. pic.twitter.com/bgVuOjsmHG

— Imran Khan (@ImranKhanPTI) March 14, 2023
The PTI chairman said everyone should come out of their homes for their rights and "haqeeqi azaadi" (true freedom).
PTI's Fawad Chaudhry also asked PTI supporters to gather in the streets in a show of solidarity with Imran.
پاکستان کے لوگ جہاں بھی ہیں چوک اور چوراہوں میں اکٹھے ہوں اور عمران خان سے اظہار یکجہتی کیلئے پر امن احتجاج ریکارڈ کرائیں، تحریک انصاف کی تنظیمیں اس احتجاج کو پرامن بنانے میں کردار ادا کریں اور جگہ کا اعلان کریں

— Ch Fawad Hussain (@fawadchaudhry) March 14, 2023
In Karachi, PTI workers are protesting at Shaheen Complex, Teen Talwar, Rashid Minhas Road, Sohrab Goth, Board Office, Qayoomabad, Star Gate and other places.
In Peshawar, the party workers are protesting at Peshawar Press Club.
پشاور کی عوام کی بڑی تعداد پریس کل کے سامنے عمران خان کی ممکنہ گرفتاری کے خلاف ملک بھر میں احتجاج شروع

پی ٹی آئی وومن ونگ مرکزی نائب صدر@ayeshabanopti بھی احتجاج میں شریک pic.twitter.com/mzuYjdmEEF

— PTI Peshawar (@PTIPeshawar) March 14, 2023
After dusk, anti-riots police sprung into action and arrested a few PTI workers. Police is expected to attempt to enter Zaman Park residence shortly.
They're shelling Imran Khan's house too, a leader who requested everyone to stay peaceful and patient. Democracy seems to be suspended in the country, no? #زمان_پارک_پہنچو pic.twitter.com/nBuen0MYQc

— PTI (@PTIofficial) March 14, 2023
PTI workers clashed with law enforcement that retaliated with baton charging, water cannons and tear gas shelling. Protesters hurled stones on police and attacked them with sticks.
Earlier on Tuesday, Islamabad police used water cannon and tear gas against PTI workers gathered outside party chief Imran Khan's Zaman Park residence in Lahore.
عمران خان کی ممکنہ گرفتاری کے خلاف کارکنان کا احتجاج جاری قیوم آباد چورنگی،

کورنگی انڈسٹریل ایریا روڈ کو مکمل بند کردیا گیا۔ pic.twitter.com/AcinfT7E3o

— PTI Karachi Official (@PTI_KHI) March 14, 2023
Television footage showed police advancing cautiously towards the house behind an armored car that was using a water cannon to scatter PTI supporters. Moreover, supporters could be seen throwing rocks towards the cops.
Armored police trucks arrived outside Imran's Zaman Park mansion in Lahore shortly after 2:00 p.m. with the purpose to arrest him, however they chose not to make any comments about the PTI chairman's detention.
It's worth mentioning that an Islamabad district and sessions court on Monday again issued arrest warrants for Imran in the Toshakhana case. The court had also directed police to present the ex-premier in court by March 18.
A contingent of Islamabad police along with armored vehicles reached Pakistan Tehreek-e-Insaf Chairman Imran Khan's Zaman Park residence to arrest the former premier.
PTI leader Farrukh Habib also shared footage from Zaman Park and claimed Imran's "life was in danger" and added that circumstances are being created in order to target the former premier again.
PTI's Hassaan Niazi spoke to the media outside Zaman Park and said that the party would receive Imran's arrest warrants and challenge them in the high court. He said the party "did not trust" the police.
عمران خان کی جان کو خطرہ ہے لیکن پس پردہ ایسے حالات پیدا کروائے جارہے جہاں انکی سیکورٹی کمپرومائز کرواکر دوبارہ قاتلانہ حملہ کروایا جائے۔ F8 کچہری میں حاضری کسی death trap سے کم نہیں بار بار وارنٹس ایشو کروائے جارہے اور پولیس جیسے عملدرآمد کررہی وہ سب کو معلوم ہے pic.twitter.com/B7FAl1VFFV

— Farrukh Habib (@FarrukhHabibISF) March 14, 2023
He further said that police had been informed that workers were "angry" after the death of Zille Shah. He further said that he told the police that he would "check Imran's availability" and get back to them.