Minister Azam Swati set to reshuffle top posts in railways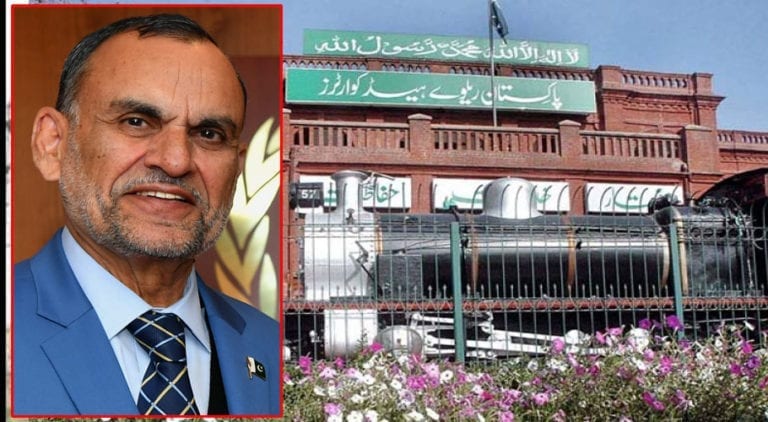 ISLAMABAD: Railways Minister Azam Swati is set to reshuffle top positions within the ministry and remove the team of this predecessor to improve governance and operations.
The railways has been facing massive losses as former minister Sheikh Rashid Ahmed failed to resolve the administrative issues that have plagued the ministry for several years. After taking charge of the ministry, Azam Swati has decided to reform the administrative affairs and improve performance.
On December 14, Swati assumed charge of the ministry and vowed to modernize the railways. In his first address to media, the minister said the railways will collapse the day the government begins politicising it.
During the first five months of the year 2020, the Pakistan Railways faced a deficit of Rs11.37 billion.  There was an increase in train delays and many were cancelled. There were more than 500 train accidents recorded in the first nine months in which 53 people lost their lives. The railways also stopped all train operation after a lockdown was imposed in March last year.
The railways resumed operations partially on May 20 but the not fully resumed due to dysfunctional trains and dilapidated railway track. Out of 172, only 74 up and down trains have resumed till now. Many trains are still being delayed, causing immense inconvenience for passengers.  Rashid also neglected the freight train service and only expanded 30 new passenger trains.
The shuttle service between Lahore-Raiwand-Wagah and Gujranwala was discontinued after operating for just a few mionts. The contract employees of the railways were not regularized during Rashid's tenure while the ML-1 megaproject was inaugurated but has failed to make headway. The labour union has termed it a difficult year for the railways.
Sources revealed that Swati is considering a massive reshuffle in the ministry. In the regard, he has also made lists to replace the officials brought by his predecessor. Many of these official still have a affinity for Rashid and could face the axe in the upcoming reshuffle.