LUMS students holding a 'fake wedding' divides Twitter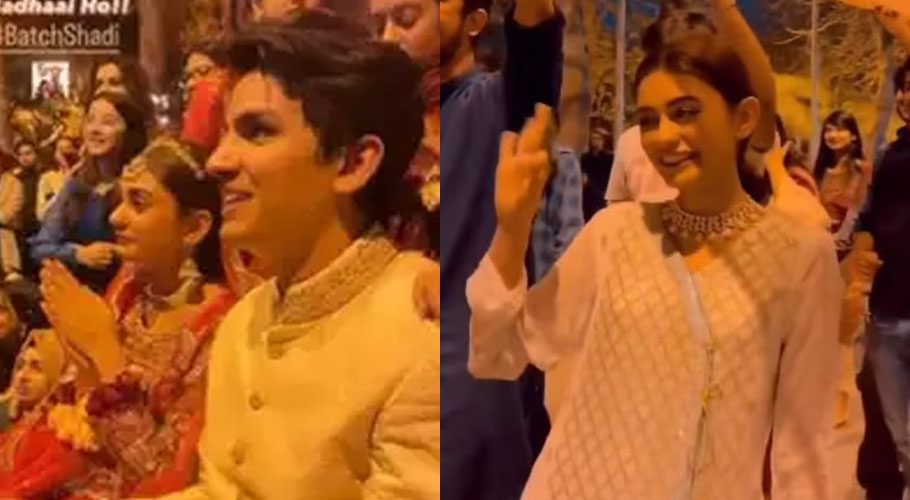 Known as the Harvard of Pakistan, the Lahore University of Management Sciences aka LUMS is famous for setting an unusual bar for Pakistanis.
Well, the students of 'Harvard of Pakistan' has done it again and this time throwing a 'fake wedding' at the campus. The video of students getting married on campus went viral. According to several videos, it turned out how two senior students were selected through votes, and how students held a three-day fake wedding function at the campus where all the rituals were performed along with the students grooving over Bollywood songs.
Read more: LUMS is trending on Twitter: What did the students do this time?
However, as usual, most of the social media users were unhappy with the new trend LUMS students have just and netizens called it disgusting and should not be normalized at all costs.
That lums marriage thingy was not cute , it was disgusting and should never be normalized in any means https://t.co/E07Esn9ffk

— Cutiee (@youisthebecausw) March 14, 2023
Fake marriages and dance parties: Are they becoming the new norm in universities like LUMS? Is this what we define as 'education' in today's society?"#Pakistan #lums pic.twitter.com/P7zTycUlQI

— Usama Zafar. (@UsamaZafarPK) March 13, 2023
Pak Twitter moving back and forth between #ToshaKhana and the fake Lums wedding: pic.twitter.com/qU9tPBd13I

— Paul (@mrithejester) March 14, 2023
Thread
1. People admiring and saying cute, OMG I wanna do this too and all the things to the recently uploaded videos of a fake marriage happened in LUMS. I just wanna say Muslims would've never been this much Jahil in any recent Era after Islam than they are now.

— A¥€$ha (@ayseinnesha) March 14, 2023
However, there were social media users who were in awe with the new trend; for them , it was cute and every wedding should be held in such simple way:
Mann, I love it, they look so cute. We used to do these kinda things when we were kids like gudda guddi ki Shaadi, so why not now? I know they're not gudda guddi though but still.. waise bhi life mai thoda halla gulla hona chahiye.
I am obsessed with it.#lums pic.twitter.com/lBpAoIphxy

— M (@cuteyetpsychoo_) March 13, 2023
✨ lums ki shaadi jaisa nikaah is what i need & deserve ✨ pic.twitter.com/Ocf4csWolt

— tashu (@okmantasha) March 14, 2023
Lums just proved you can have an amazing wedding for little to no cost. https://t.co/hCia2m5tzd

— Twitt.Arhum (@arhuml92) March 13, 2023
So LUMS HOLD MOCK WEDDING OF TWO STUDENTS JUST FOR FUNCTION AND CELEBRATION 😭pic.twitter.com/pVRhYm1SRx

— ك♡ (@Oceanyc3) March 12, 2023
I cannot believe people are debating K LUMS shaadi was real and those two are married now WHY MUST I SHARE THIS PLANET WITH YOU CHUTIYAS I HATE YOU, I HATE THAT THIS IS HOW YOUR BRAIN WORKS, YOU ASSHOLES HAVE DESTROYED THE VIBES OF THE ENTIRE WORLD, LORU MENTALITY, FUCK YOU ALL

— g h a u r a (@ghauraghaura) March 14, 2023
This is really intersting, Lums having an annual fake shaadi, where two seniors are picked to get married, sounds so fun. this mock weeding of two handsome students just for fun is really interesting.
QAU students must learn from LUMS how to spread love instead of bigotry. pic.twitter.com/bxQ2MB1g2y

— Salma (@HunzaiSalma) March 13, 2023
LUMS students did a mock 'batch wedding' event of University fellows.
It looks like a wonderful & joyous event.

What are your thoughts about this?
____#lums #توشہ_خانہ pic.twitter.com/ddxAffuORo

— Graduate Talks (@graduatetalkspk) March 13, 2023
Coincidentally, I was at LUMS the day the mock wedding was happening. The atmosphere on campus was so joyous. Took me right back to my PU days where antakshari on trips to Kallar Kahar & Rohtas Fort was the highlight of our lives. These kids seemed no different to me. https://t.co/krgS2kAVWh

— Sabahat Zakariya (@sabizak) March 13, 2023
In Pakistan students have been lynched, assaulted, filmed without permission, pushed to take their own life, but people have problem with LUMS students enjoying their time in university. I don't know why, collectively we are against joy, we only seek satisfaction in misery

— Jasir Shahbaz (@LahoreMarquez) March 13, 2023