LHC halts auction of Toshakhana items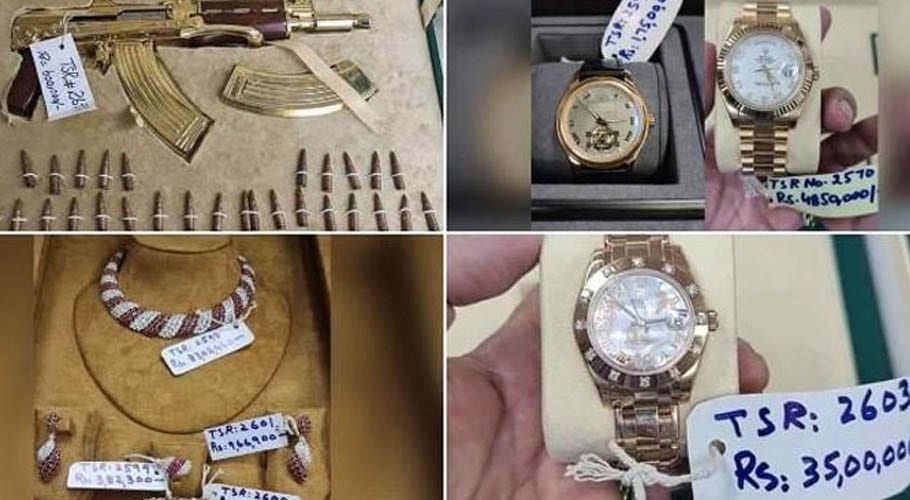 LAHORE: The Lahore High Court (LHC) has restrained the federal government from auctioning precious gifts in the Toshakhana (gift depository) of the Cabinet Division till further orders.
A single bench comprising LHC Chief Justice Muhammad Qasim Khan directed the government to submit its reply on a petition moved by Advocate Adnan Paracha against the auction of items to be held on November 25.
The state counsel stated that the auction is held in line with the relevant laws. However, the petitioner claimed that the auction is not advertised and only bureaucrats are informed of the auction in violation of laws.
He said the Toshakhana stores gifts given to the president, prime minister and ministers by foreign heads of states and dignitaries as a goodwill gesture but the government auctions them without following any legal procedure.
He lamented the federal authorities write letters to officials instead of inviting the public to participate in the auction to keep the auction process under wraps.
The LHC suspended a notification regarding the auction of Toshakhana items on November 25. The court directed the government to submit its response to the petition by December 9.
Earlier the Cabinet Division had issued a notification to dispose off various articles in the Toshakhana through an open auction in accordance with the 'Toshakhana Procedure'. However, the auction only invited bids from the officers of the federal government and armed forces.
The items were displayed for inspection at the Cabinet Division from November 4-6. The receipt of sealed bids are to be received till November 23 while the bids would be opened till November 25.
The government has decided to auction various valauble items available in the Toshakhana. These items range from a L.U. Chopard watch worth Rs17.5 million to a Rolex watch costing Rs3.5 million.
A gold-coloured gun worth Rs600,000 and a diamond set of approximately Rs14.827 million with the necklace costing Rs8.3 million, earrings worth Rs966,900, a ring costing Rs382,300 and a bangle for Rs5.17 million were also included
Gifts in government's toshakhana to be auctioned off – only officers of the federal government and the armed forces will be allowed to bid, says a notification of the Cabinet Division pic.twitter.com/7BGtCp07yA

— omar r quraishi (@omar_quraishi) October 27, 2020