K-Pop singer Daud Kim arrives in Pakistan
Famous South Korean pop band singer and YouTuber Daud Kim has arrived in Pakistan.
He took to Instagram to share scenes from the airport in Jeddah and his ticket to Lahore. "2 hours to get the ticket but Alhamdullilah I'm going," he wrote with Pakistan's flag emoji.
In another story, Kim shared a photo of himself and wrote in Urdu, "*Mera intezar karo. Mujhe tumse pyar hai Pakistan** [Wait for me, I love you Pakistan]".
Kim also took a photo of his travelling fit that included a Kakao friends peach AirPod case, a light grey coloured thobe with white slippers. Upon landing, Kim also shared his pin and said he has "finally" arrived in Lahore.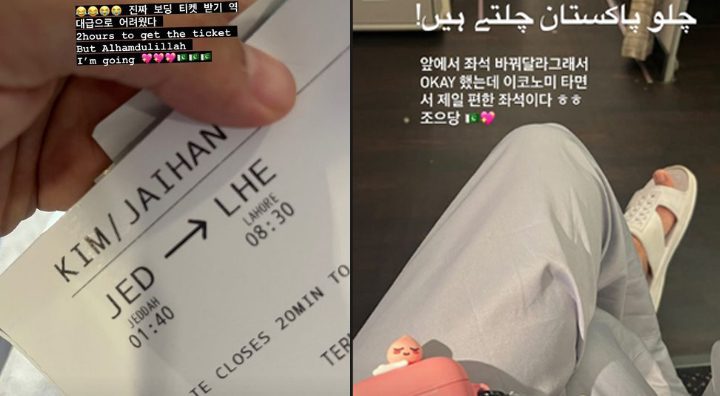 He asked his followers about what he must do in the city and wrote, "I just came to my friend home, sleep first and then I'll make the plan." He added that he has always loved Pakistan and asked for food recommendations from his followers.
Earlier this month Daud Kim performed Umrah for the first time since he converted to Islam in 2019. He had often shared his desire to visit the holy city of Makkah and Madina.
Hhe took to his Instagram to share pictures and updates from his spiritual experience calling himself as the "luckiest guy" on the planet,  Daud posted a series of pictures of himself in Ahram at the Kaaba and a clip of the surroundings.
 

 

View this post on Instagram

 
"Finally I came to Makkah. I am the luckiest person because Allah (SWT) chose me and He brought me here. Masha Allah," read the caption.
"Being grateful for the oppurtunity, he further added how he prayed for the entire Muslim community. "Thanks to Allah, thanks for giving me the chance to come to the holiest city in the world. I prayed for all the Muslim brothers and sisters. May Allah forgive our sins and accept our Duas."
Kim embraced Islam in 2019 and changed his name to Daud. He has 3.38 million YouTube followers and resides in South Korea.