Indian police baton-charges students protesting over fee hike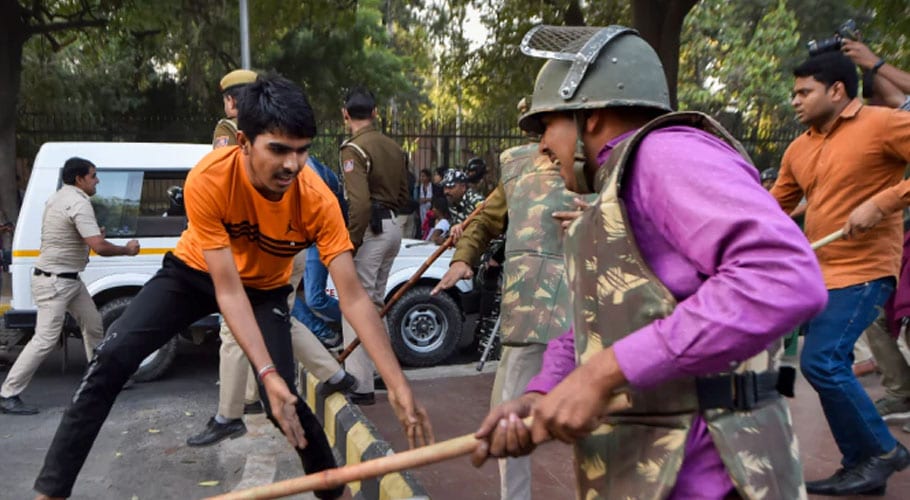 NEW DELHI: The Indian police have baton-charged students who have been protesting over

hike in the

fee at Jawaharlal Nehru University (JNU).
Students from the University were detained because of their continuous protest against fee hike in the hostel.
Students started a march from the university to the parliament as part of their action against higher costs for accommodation as well as curfews and other restrictions on campus.
Read more: Hong Kong campus protesters fire arrows as unrest spreads
They broke through police barricades and police had to close three metro stations because of the troubles, which first erupted last week when police fired water cannon on the students.
In this regard, the government said that it had created a three-member panel to hold talks with the students. But the demonstrators said the protest would only stop until the fee hike was revoked.
Also read: One dead as petrol protests spread in Iran
The protest started on Monday. A memorandum submitted by the protesting students stated, "The fact remains that there has been no fee hike rollback as claimed by the administration and rather than any relief to BPL [Below Poverty Line] students, their misery has been compounded."
It added, "The reality of that rollback is that virtually no fee has come down. The monthly hostel and mess expenses of students are set to rise from Rs 2700  per month on an average to Rs 5500." 
Also read: One dead as petrol protests spread in Iran
Students claimed that the Delhi Police used brutal force during their demonstration and baton-charged many who participated in the protest against the fee hike.