India facing pressure due to false narrative on Kashmir: Qureshi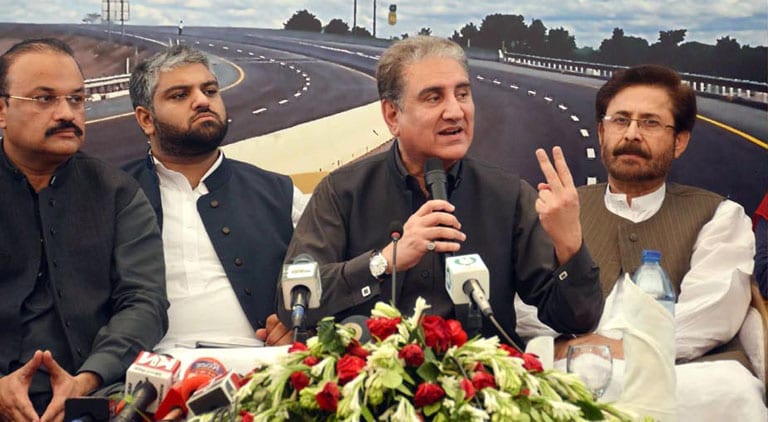 KHANEWAL: Foreign Minister Shah Mahmood Qureshi on Sunday inaugurated the Abdul Hakim-Khanewal section of M-4 motorway.
Addressing media after the inaugurated, the foreign minister said that Indian stance on Kashmir has been rejected by the international community and media all over the world has exposed Indian lies.
He said that Indian has faced massive humiliation and tremendous pressure from around the world over its treatment of innocent Kashmiris under lockdown since last 84 days.
"India's unilateral, illegal move to annex Kashmir has proven to be a bad move for the state. They face embarassment in the valley where people continue to voice their opinion and disdain for India's tyrannical, hegemonic designs.
"Pakistan is observing black day today to show solidarity with our Kashmiri brethren who have kept their just struggle alive despite grave difficulties," said FM Qureshi.
The foreign minister said Pakistan has raised Kashmir issue at the international level forcefully and the world as well as human rights organisations are now showing concern on brutalities being perpetrated in occupied Kashmir.
Qureshi said that Prime Minister Imran Khan will inaugurate Kartarpur Corridor on November 9. He said the government is promising religious tourism in the country.
He said India should have the courage of issuing visas to the Pakistani visitors so that they could visit various shrines in India and meet their relatives.
The minister said that people of Multan and entire southern Punjab will benefit from travelling facilities to Lahore, Faisalabad and Islamabad with the complete functioning of M-4.
He said that special economic zones will be established in the second phase of China-Pakistan Economic Corridor (CPEC) which will help generate economic activities and create job opportunities. He said that China will shift Industry to Pakistan under CPEC.