India dislodges Pakistan as top-ranked ODI team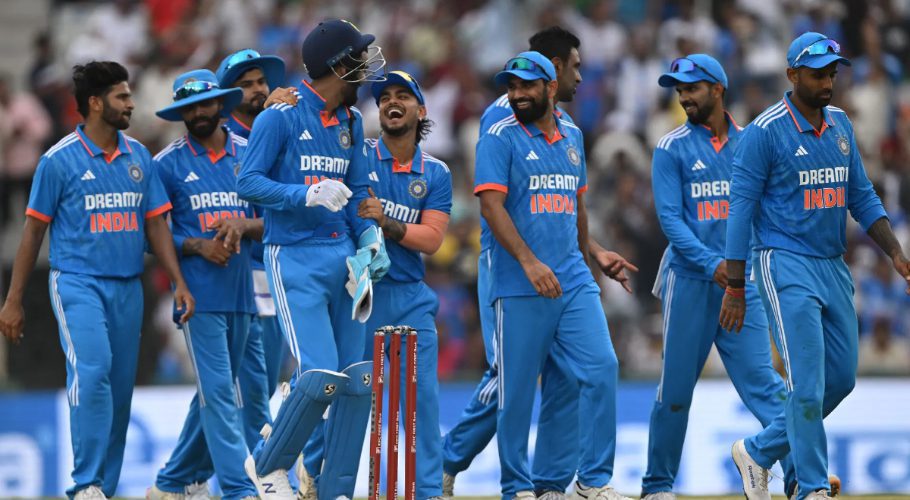 India became the No.1 ranked ODI team after their win against Australia and as a result, accomplished a rare feat in rankings history.
India is hitting their strides heading into the Cricket World Cup 2023 at home as they climbed to the summit of the ODI Team Rankings after their triumph over Australia.
India (116 rating points) displaced their arch-rivals Pakistan (115) at the top of the rankings after the win in the first ODI. Australia remain third but the gap between the top two has now widened after they dropped two points to 111.
As a result of the win, India now reigns supreme across all formats as the top-ranked team, having already occupied the top spot in Tests and T20Is. India cruised to a five-wicket victory over Australia in the first ODI to achieve the feat.
It has been a scramble at the top of the ODI Team Rankings lately with India, Pakistan, and Australia all in contention for the top spot during the recently-concluded Asia Cup and Australia's ODI series against South Africa.
Pakistan held on to their No.1 spot despite not making it to the Asia Cup Final. Both India and Australia had opportunities to reach the ODI summit during the Asia Cup and the South Africa series but lost games when it mattered.
As a result of the defeat, Australia no longer stands a chance to be the No.1 team heading into the World Cup. However, Pakistan could still go to the top if Australia win the remaining two matches. India remains in the box seat now, with a series win guaranteeing them the top spot heading into the marquee event at home.
India's dominance now extends across all formats with them already occupying the No.1 spot in Tests and T20Is. This is only the second time in men's cricketing history that a side has achieved the No.1 ranking across the formats. Prior to this, only South Africa had achieved the feat back in August 2012.
In the longer format, India have displayed remarkable consistency as a result of which they made their second consecutive World Test Championship Final in June, though they failed to conquer the final frontier again. Their recent record in bilateral series is almost spotless, with the series loss against South Africa in 2021-22 being the only blemish.
In T20Is, India reached the semi-final of the T20 World Cup in 2022. Their run in bilateral T20I series has been all the more impressive, having lost just one series out of 14 since the 2021 edition of the T20 World Cup.