Ilhan Omar, Alexandria Ocasio-Cortez win second congressional terms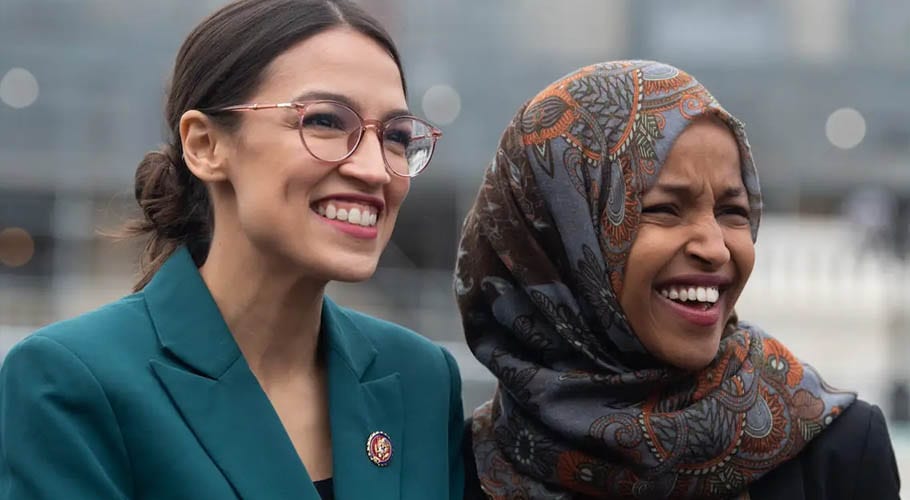 WASHINGTON: Somali-American congresswoman Ilhan Omar and Democratic representative Alexandria Ocasio-Cortez have been re-elected to a second term in the US House of Representatives.
Omar, 38, defeated her Republican challenger, African-American businessman Lacy Johnson, by 64.6 percent of the vote to 25.9 percent, in Minnesota's 5th congressional district in Minneapolis, Minnesota.
Omar is the first Somali-American member of the US Congress and one of the first two Muslim women to be elected to Congress in 2018. Omar has built a national profile as a refugee from Somalia and was elected to the Minnesota Legislature in 2016. Her aggressive advocacy on liberal issues, anti-Israel comments clash with US President Donald Trump have made her even more prominent.
She has frequently become a target of criticism and defamatory comments from the president and other Republicans. Last month, Omar hit back at Trump, calling him "racist" after he disparaged her during a campaign rally and falsely implied that she is not American.
Omar is vocal in her opposition to other US-foreign allegiances, including the relationship with Saudi Arabia and UAE. Her Republican rival Johnson was a first-time political candidate. The 66-year-old is an entrepreneur with a background in information technology.
Serving NY-14 and fighting for working class families in Congress has been the greatest honor, privilege, & responsibility of my life.

Thank you to the Bronx & Queens for re-electing me to the House despite the millions spent against us, & trusting me to represent you once more. https://t.co/MXG2Z2DV2F

— Alexandria Ocasio-Cortez (@AOC) November 4, 2020
Alexandria Ocasio-Cortez defeated her Republican challenger John Cummings and was assured of winning re-election in the heavily Democratic New York 14th congressional district which includes parts of New York City boroughs, The Bronx and Queens. She made history in 2018 as the youngest woman elected to Congress in US history at the age of 28.
Both are members of the so-called "Squad" of four freshman progressive Democratic congresswomen that includes Rashida Tlaib from Detroit and Ayanna Pressley from Boston. The four represent a new emerging faction of young, progressive politicians who are pushing the established House leadership of the Democratic Party.
Ocasio-Cortez was a leading advocate the "Green New Deal" a bold plan to create jobs by switching the US economy from fossil fuels to electricity and renewables. She had backed Bernie Sanders over Joe Biden early in the Democratic presidential primary contest.
Biden disavowed support for the Green New Deal during the campaign but has said he will support policies to promote greater use of renewables and transition away from oil, gas and coal. Democrats are hoping to cement control of the House for two more years with perhaps an even larger majority.