Here's what Maya Ali's current addiction is nowadays
Actress Maya Ali has been busy binge-watching a South Korean Show which has become her latest addiction.
The Pehli Si Mohabbat actress took to her Instagram story and posted a picture of the South Korean popular series 'Vincenzo'. With the caption 'current addiction' she posted the picture of the series.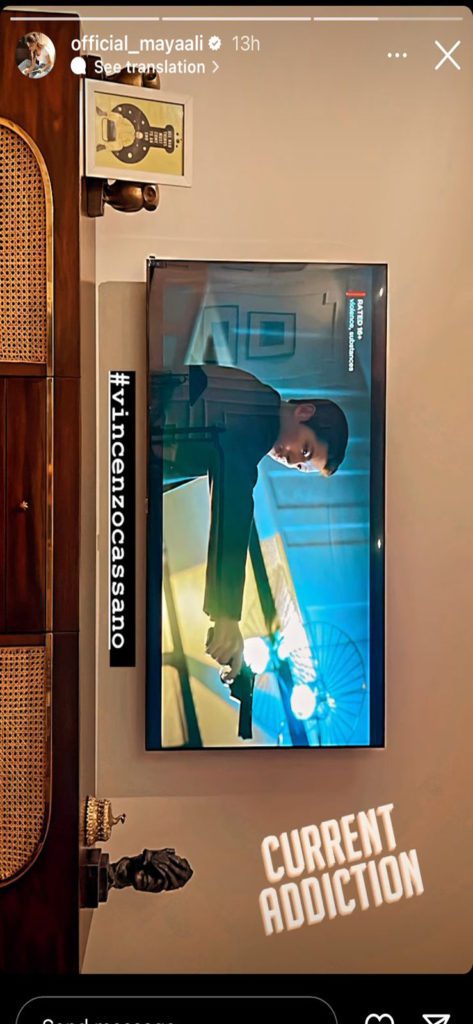 Vincenzo is no doubt one of the most anticipated Korean dramas of 2021. Thanks to its unique storyline, amazing OSTs, and the undeniable chemistry between the two leads; Song Joong Ki and Jeon Yeo Been.
Based on crime drama with a splash of dark comedy, the drama is based on the concept of 'An Eye For An Eye'. Interestingly, unlike the other dramas, the hero in the play is himself a villain and his leading lady is an opportunist and a smart lawyer. With this unique storyline, Vincenzo Cassano (Song Joong Ki) and Hong Cha Young (Jeon Yeo Been) team up to take down villains.
What global fans loved the most about the drama was its unique storyline, Vincenzo and Chayoung's relationship, and how it is not forced or rushed.  Consisting of 20 episodes, this drama was officially streamed on Netflix.
Read more: Check out four most anticipated K-dramas of 2022
After the South Korean movie 'Parasite' made history by becoming the first foreign-language film to ever win the Oscars in 2020, the craze of Korean movies and K-Dramas not only ruled all over the world but in Pakistan and among Pakistani actors as well.
By the passage of time, K dramas have become more popular because of their firm grip over the storyline, romance, fashion, music, and their skills of captivating the audience.