Here's how celebrities condemned incident at Masjid-e-Nabawi
Pakistanis have still not moved on from a shocking incident of pilgrims violating the sanctity of the Masjid-e-Nabawi in Medina. 
The unfortunate incident took place this week when PM Shehbaz Sharif along with his delegation entered the mosque to pay respect at the Roza-e-Rasool (PBUH). That's when some of the pilgrims chanted the slogans of "chor, chor" against him and his delegation.
Read more: Here's how Pakistani celebrities reacted on Will Smith-Chris Rock fiasco
The videos have gone viral since the incident and many social media users condemned the incident including notable Pakistani celebrities. Many famous personalities took to their social media accounts to condemn the sad incident which took place in Medina. Let's have a look:  
 

 

View this post on Instagram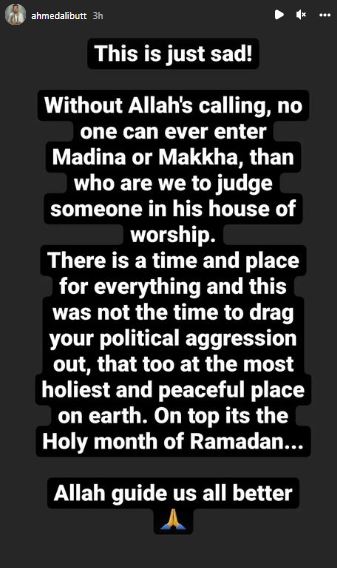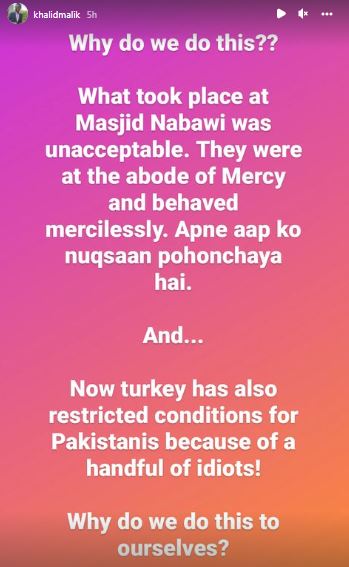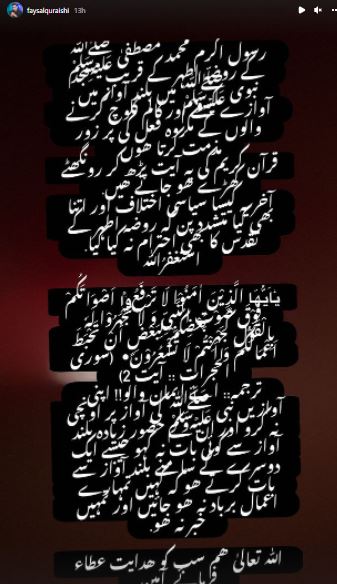 آج مسجد نبوی میں احتجاج کی صورت میں جو حرم شریف کی پامالی کی گئی یہ بالکل اسلام میں درست نہیں ہے، اسکی جتنی بھی مذمت کی جائے کم ہے۔
#توہین_مسجد_نبوی_نامنظور

— Tariq Jamil (@TariqJamilOFCL) April 28, 2022
یہ وہ جگہ ہے جہاں آواز بلند کرنے کی بھی ممانعت ہے مگر ہم اپنی سیاسی دشمنیاں نبھانے کے لئے حرم کی حرمت تک بھول گئے۔ریاست مدینہ کے تقدس سے بھی منکر ہو گئے۔نعرے لگانے والوں کی پہچان تو ہو جائے گی لیکن پاکستان کی شناخت کو آج ناقابل تلافی نقصان پہنچا ہے۔ pic.twitter.com/GesGxrftQE

— Shahid Afridi (@SAfridiOfficial) April 28, 2022
ہر وہ شخص جو مسجد نبوی کے معاملے پر کسی بھی متشدد گروہ کی حمایت کرے یا کسی بھی غصیلے ہجوم کے جذبات بھڑکا کر تشدد پر اکسائے ۔۔۔ اس کی شدید مذمت کیجئیے۔ ملک قیادت کے بحران کا متحمل نہیں ہو سکتا

— Shafaat Ali (@iamshafaatali) April 29, 2022