Haleem Adil Sheikh, others handed over to police on two-day physical remand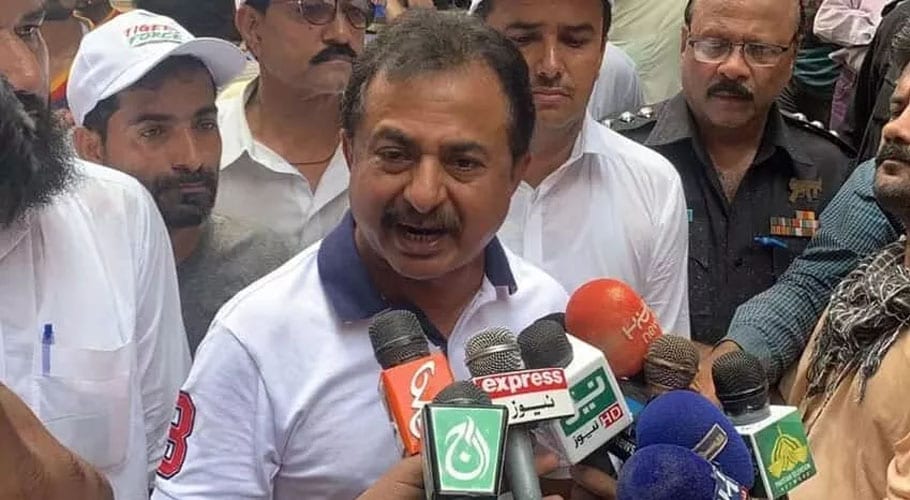 KARACHI: An anti-terrorism court in Karachi has remanded Leader of the Opposition in the Sindh Assembly Haleem Adil Sheikh and four others in police custody in cases related to anti-terror and other provisions.
The case against Haleem Adil Sheikh was filed at the Memon Goth police station on the charges of violence, firing, attempt to murder and causing terror during the by-elections in the PS-88 constituency of Malir a day earlier.
Police claimed that the PTI leader along with four of his supporters arrested during the by-elections in the PS-88 for allegedly resorting to violence, aerial firing, attempt to murder, hindering public servants from discharging their duties and causing terror during voting at a polling station.
Police on Wednesday produced Sheikh and other suspects before the ATC's administrative judge amid tight security to seek their physical remand for interrogation and investigation.
The special public prosecutor, Shahid Mehmood Arain, informed the court that the PTI leader and his supporters were taken into custody in connection with a first information report (FIR) registered against them at the Memon Goth police station.
The custody of the detained suspects was required in order to interrogate them and arrest their alleged absconding accomplices, including Sumera Sheikh and around 40 to 50 other unidentified men, he added.
hahid Mehmood told the judge that the criminal record of arrested men was required to be checked and other legal formalities were also to be fulfilled. Therefore, the prosecutor requested the judge to grant two-day physical remand of the PTI leader and other suspects.
The judge accepted the request and directed the investigation officer to produce them on the next date along with an investigation report.
On the occasion talking to media Sheikh alleged that he had been implicated in the cases on the direction of Sindh Chief Minister Murad Ali Shah, who he claimed was politically victimizing him.
A day earlier, Taj Haider, the in-charge of the PPP's Central Election Cell, in a letter to the Election Commission of Pakistan (ECP) said that Sheikh could be seen roaming the constituency with armed persons and was harassing voters. He also attached videos and pictures of Sheikh's alleged misconduct. The ECP had subsequently ordered for him to be expelled from the area.
Yesterday, Haleem Adil Shaikh was arrested by police for violating the orders of the Election Commission of Pakistan (ECP) amid the voting process during PS-88 by-polls.