Green Line bus project: Bridge develops cracks due to substandard material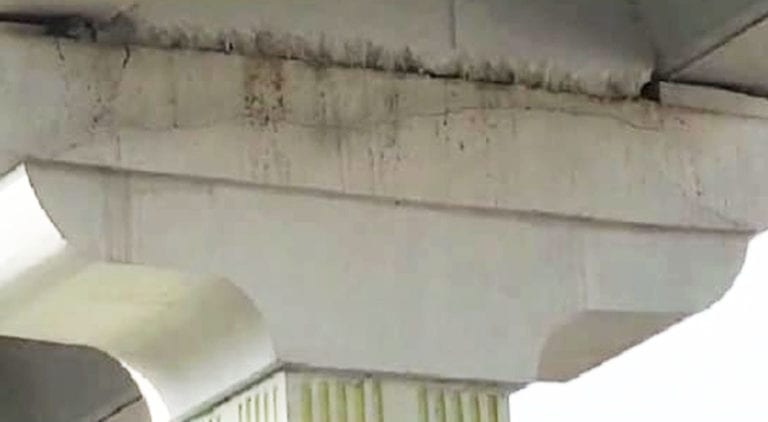 KARACHI: Cracks have appeared in the parts of the recently constructed bridge of the Green Line bus project which poses a serious threat to the lives and well-being of the citizens.
According to sources, the material used in the construction of the bridge was substandard as a result, cracks were developed in several parts of the bridge before it opens for public transport.
Sources further informed the upper part of the Green Line project's bridge was constructed from Rizvia Chowrangi to Lasbela, adding that clear cracks are visible in the beam of the bridge at Gulbahar area.
Sources disclosed that the bridge had developed cracks at other parts that were being repaired, adding that concerned officials were unaware of the type of material used by the contractor of the bridge.
According to the architects "If the damaged parts of the bridge collapse, there could be an irreversible loss of human lives".
Due to repeated defects in the under-construction Green Line project, its construction has become dubious, sources said.
Citizens have demanded that Prime Minister Imran Khan, Chief Minister Sindh and concerned authorities to take immediate action as these seemingly minor flaws can lead to any untoward incident.
Several bridges in Karachi have become hazardous and could invite an accident at any moment.
The situation has been aggravated by the negligence of the concerned authorities and has spread fear and panic among residents.
According to details, several bridges of the city including Landhi-Quaidabad Bridge, Dawood Chowrangi-Landhi Bridge, the bridge on Malir river connecting Shah Faisal and Korangi, and Kalapul on Korangi Road could lead to inevitable accidents.
The recently-inaugurated underpass on Shaheed-e-Millat Road has been in a state of disrepair since the early days of construction. The bridge at Nagan Chowrangi is also crumbling and there is a deep ditch which causes obstacles for moving vehicles and is a recipe for disaster.
The expansion plates on some bridges have fallen into disrepair and are causing more accidents The open joints at two locations on Quaidabad flyover lead to accidents regularly and injuries to motorcyclists.