Govt imposes 'mini' lockdown on COVID-19 hotspots in three major cities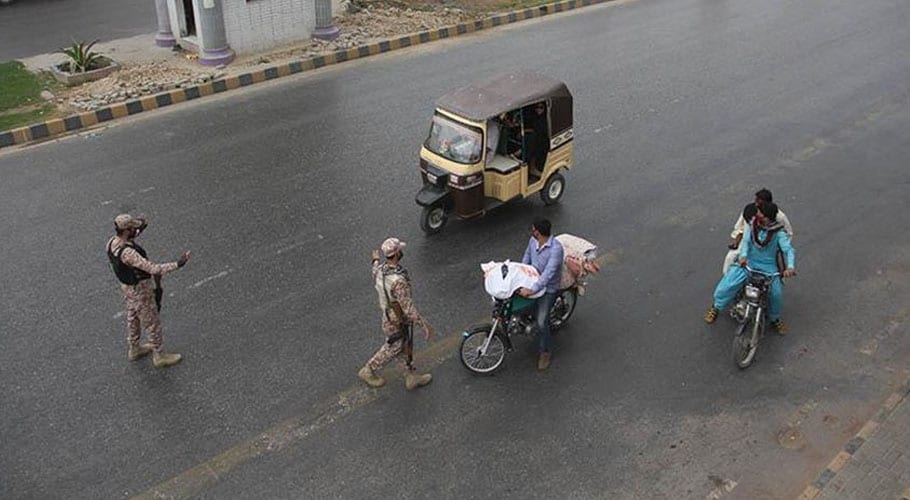 ISLAMABAD: After surging in the number of COVID-19 cases, authorities have imposed a mini smart lockdown in Karachi, Islamabad and Azad Kashmir on Sunday.
Federal Minister for Planning and Development Asad Umar has said that COVID-19 cases have been increased by two percent as compared to last week. Local administrations have been instructed to ensure protective steps to limit the spread of COVID-19 disease, the minister added.
He said several teams conducted COVID-19 surveillance activities in different sectors and observed that cases are increasing in street number 38, 44, 45, 46, 47, and 48 and on Sawan road adjacent to street 48, in sector G-10/4 of Islamabad.
"Street numbers 25 and 29 in sector I-8/2 and street numbers 85 and 89 of sector G-9/4 have the same trend of increasing COVID-19 cases," he said.
Asad said in Karachi including, two localities of district South were identified as 'fresh hotspots' of the pandemic and were placed under a 'mini smart lockdown'.
"Mini-smart lockdown" in two residential compounds of the Manghopir area of the city that will remain enforced till October 15, he added.
The minister urged people to cooperate with health officials and with the security personnel during the lockdown period.
The total number of deaths due to the coronavirus in Pakistan has reached 6,570 after 12 more patients died during the last 24 hours across the country.
As per details, the country has reported 12 deaths by novel coronavirus as the number of positive cases has surged to 318,932. The nationwide tally of fatalities has jumped to 6,570 on Sunday.
According to the latest figures by the National Command and Operation Center (NCOC), 666 persons have been tested positive for COVID-19 in 24 hours.
Sindh remains the worst-hit province by the pandemic in terms of cases followed by Punjab, Khyber Pakhtunkhwa and Islamabad.
Till now 140,131 COVID-19 cases have been confirmed in Sindh, 100,687 in Punjab, 38,329 in Khyber Pakhtunkhwa, 17,296 in Islamabad, 15,520 in Balochistan, 3,045 in Azad Kashmir and 3,924 in Gilgit-Baltistan.
Besides 2,549 individuals have lost their lives to the epidemic in Sindh, 2,257 in Punjab, 1,263 in KP, 146 in Balochistan, 188 in Islamabad, 89 in GB and 78 in Azad Kashmir.