FM meet Saudi counterpart, calls for de-escalating tension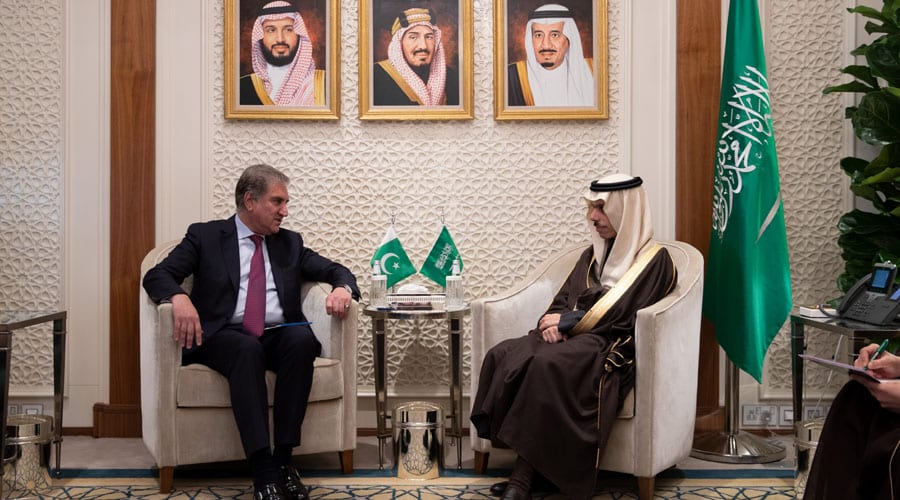 ISLAMABAD: Foreign Minister Shah Mahmood Qureshi on Monday underlined the need to reduce tension in the Middle East region to ensure peace, stability and security.
The foreign minister arrived in Saudi capital Riyadh on the second leg of the diplomatic efforts to reduce regional tensions, where he met his Saudi counterpart Prince Faisal bin Farhan Al Saud.
Qureshi said Pakistan would support all efforts for peace and provide all possible facilitation for constructive engagement among parties concerned. He underscored the need for all sides to exercise maximum restraint, avoid taking any further steps which may escalate the situation, work for defusing tensions, and finding ways for constructive engagement.
Qureshi said issues and disputes should be resolved through diplomatic means peacefully. He said the situation of region will be dangerous if timely actions are not taken to reduce the tense situation. He also informed his counterpart about his contacts with regional foreign ministers on the situation to overcome the tension.
He added that it is encouraging that Iran and the United States have clearly said in their official statements that they want de-escalation in the region.
The foreign minister underscored that the fraternal ties between Pakistan and Saudi Arabia were deep-rooted and the strategic relationship between the two countries was growing in myriad dimensions.
He highlighted the thrust of his diplomatic outreach as part of prime minister's direction that Pakistan must support all efforts aimed at avoiding conflict and resolving differences and disputes through political and diplomatic means.
#Riyadh | FM Prince @FaisalbinFarhan met with Pakistan's FM @SMQureshiPTI. The two discussed the historic bilateral relations between the two brotherly countries and ways to further strengthen relations in all fields. pic.twitter.com/GJCB6nSrCB

— Foreign Ministry 🇸🇦 (@KSAmofaEN) January 13, 2020
The Saudi foreign minister reaffirmed the strategic importance of Saudi-Pakistan relations and the resolve to deepen mutual cooperation in all fields.  In the regional context, the Saudi foreign minister welcomed the Qureshi's visit and Pakistan's support for efforts to defuse tensions, preserve peace and security, and help find a diplomatic way forward.
The two sides agreed to remain engaged and consult closely on issues affecting peace and security in the region and beyond. He also appreciated the role of Prime Minister Imran Khan for his peace efforts to ensure peace and stability in the Gulf.
Later, Foreign Minister Shah Mahmood Qureshi left for Oman after completing his one-day visit to Saudi Arabia. He was seen off by DG Protocol of Saudi Foreign Ministry Abdullah M. Rashid at the Airport. Pakistani Ambassador Raja Ali Ijaz and other senior officials of Pakistan Embassy were present at the airport.
In Oman, the foreign minister will express condolence with the Royal Family over the sad demise of Sultan of Oman Qaboos bin Said.