Erdogan inaugurates landmark mosque in Istanbul's Taksim Square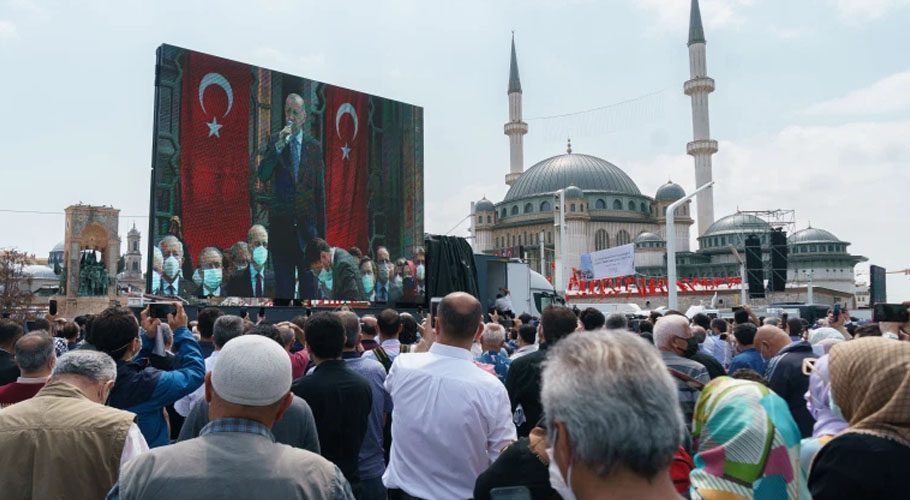 ISTANBUL: Turkish President Recep Tayyip Erdogan inaugurated an imposing and controversial new mosque in central Taksim Square in Istanbul.
The opening fulfilled a long-held ambition by various governments since the 1950s to build a mosque in the square, often thought of as a symbol of Turkey's founding father Mustafa Kemal Ataturk's secularism.
The inauguration also coincided with the anniversary of massive anti-government protests, which began in the nearby Gezi Park on May 28, 2013, due to government construction plans.
Thousands of worshippers attended the first prayers at the mosque on Friday, which looms over a bronze and marble statue depicting Ataturk, while worshippers sat on disposable paper prayer mats. There was little social distancing among the crowds who gathered for Friday prayers even though municipality workers handed out masks and sanitizer.
Erdogan's arrival was met with applause as he waved to the crowd before heading inside. In a speech, Erdogan said he hoped it would "illuminate our city like an oil lamp for centuries to come".
The area was home to Istanbul's religious and ethnic minorities during the Ottoman era and there are several churches in the vicinity but few large mosques. Erdogan pushed for the establishment of a mosque in the area since he was Istanbul mayor in the 1990s, but the plans were frustrated by a military intervention in 1997 that deposed the country's government.
During a speech that followed the inaugural prayers, Erdogan blamed the Gezi protests for the mosque project not having come to fruition earlier, referring to it as a "moment when those terrorists stood against us".
The Gezi protests were sparked by Erdogan's plan to build a shopping mall designed like the Ottoman-era barracks on a rare green space in the area, but a heavy-handed police response saw it spread around the country in unrest that continued for months.
The construction of the mosque eventually began in 2017. The new 2,250-capacity mosque reportedly also contains an exhibition hall, library, soup kitchen, and car park.
It is the third major religious landmark to be established in the city recently by Erdogan. The enormous Camlica mosque overlooking the Asian side of the city was opened in March 2019.
The 1,400-year-old Hagia Sophia, which was originally a church before becoming a mosque under the Ottomans and then a museum under Ataturk, was reconverted into a mosque last year.