ECC directs Food Ministry to achieve wheat procurement target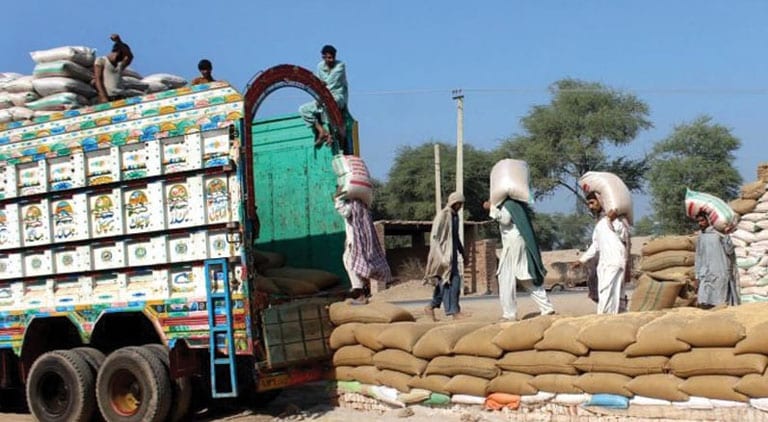 ISLAMABAD: The Economic Coordination Committee (ECC) of the federal cabinet has asked the Ministry of National Food Security and Research to closely monitor the wheat procurement process to ensure the 8.25 million tones target set this year.
The ECC meeting chaired by Adviser on Finance and Revenue Dr Abdul Hafeez Shaikh further asked the ministry to submit a detailed report in the next two to three weeks on the progress of wheat procurement by Pakistan Agricultural Storage and Services Corporation (PASSCO) and provincial food departments
The ministry has also been tasked to provide a report on the overall wheat production in the country with the help of reliable data and figures to have a clearer picture for better planning in future.
The ECC also called for exploring possibilities for extending more time to flour mills to procure wheat from the market, allowing inter-provincial movement and preventing smuggling of wheat outside Pakistan.
The ECC issued the instructions after a report was presented on wheat procurement by the public sector in the current season.
The ministry told the ECC that the wheat procurement target for the wheat crop 2019-20 was set to 8.25 million tones with 4.5 million tones to be procured by Punjab, 1.4 million tones by Sindh, 0.4 million tones by Khyber Pakhtunkhwa, 0.1 million tones by Balochistan and 1.8 million tones by PASSCO.
So far PASSCO and the provincial food departments had procured 3.96 million tones of wheat, approximately 48 % of the target while the procurement pace was slow in KP and Balochistan and both the provinces had been requested to speed up the procurement process.
The ECC accepted another proposal for fixing an intervention price for cotton and asked the ministry to come up with a comprehensive package focusing on cotton seed research, overall research and development, better water management, deregulation of the sector and zoning of crop growing areas to enhance productivity and competitiveness of the local crop.
The ECC also discussed and approved five separate supplementary grants on different proposals submitted by various divisions.