Disney India blocks John Oliver's show critical of Narendra Modi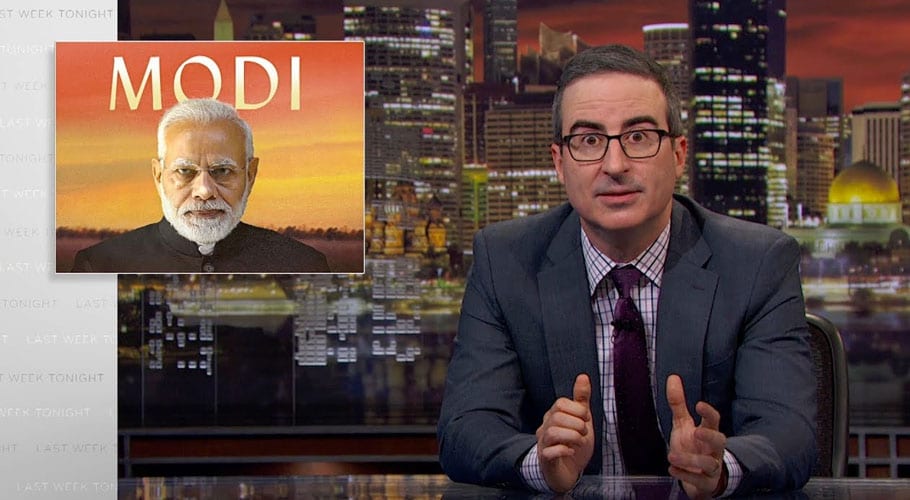 An episode of comedy talk show host John Oliver's show that criticised Indian Prime Minister Narendra Modi has been blocked in India by Hotstar, the local platform run by Walt Disney Co.
The comedian was previewing President Donald Trump's visit to India on his show 'Last Week Tonight with John Oliver'. The show typically airs at 6AM each Tuesday in India, but when subscribers logged on February 25, they could only find older episodes. The 19-minute commentary has garnered over five million views on YouTube.
According to Indian media, a Hotstar representative didn't reply to an email and calls seeking comment. A representative for the Ministry of Information and Broadcasting Ministry said the government wasn't involved in the matter.
Oliver starts off by slamming Trump for having called Modi the 'father of the nation'.  "Calling Modi the father of India is completely inappropriate for multiple reasons," Oliver said, "not the least of which is that there is a certain Gandhi who already holds that exact title."
Trump's visit to India comes amid protests against a new citizenship law, which erupted in violence hours before Trump landed in the national capital.
"While Modi may have charmed Bear Grylls, the world, and our current president, in India he is an increasingly controversial figure because his government has pursued a steadily escalating persecution of religious minorities," Oliver said in the episode.
"The only glimmer of hope here is that for perhaps the first time in Modi's whole career, his actions are creating a massive and sustained backlash."
Oliver concluded, "with any luck, the thing that unites them may actually end up being their complete disgust over what he is trying to do", since India, home of the "symbol of love" Taj Mahal, "frankly deserves much more than this temporary symbol of hate".
Amazon last year removed an episode of the CBS show Madam Secretary from its streaming service in India. The episode had references to Hindu nationalism and Hindu extremists in Kashmir. Netflix pulled an episode in Saudi Arabia of comedian Hasan Minhaj's "Patriot Act" series that criticized the kingdom's powerful crown prince.