Closely monitoring deteriorating situation in IOK, says UN chief
UNITED NATIONS: The United Nations (UN) Secretary-General Antonio Guterres has said that he

has been

monitoring the worsening situation in Indian occupied Kashmir (IoK), especially escalating restrictions and mass arrests.
A spokesman to UN Secretary-General, Stephane Dujarric said in a statement that Antonio Guterres has called for steps to defuse tensions between India and Pakistan.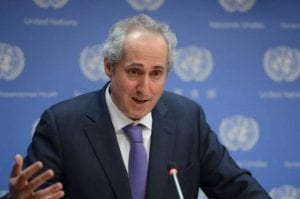 According to the spokesman,
Guterres
continues to follow the situation very closely in occupied Kashmir along with reports of restrictions at the Indian-occupied side of the line of control (LoC).
He added, "The Secretary-General reiterates what he has been saying both publicly and privately to India and Pakistan, to their leaders, to exercise restraint and to take whatever steps they can to defuse tensions."
In this regard, Antonio Guterres held a

telephonic conversation

with Foreign Minister Shah Mehmood Qureshi last week. Both discussed human rights violations by the Indian forces in occupied Kashmir.