CJP takes notice of vandalism at Hindu shrine in Karak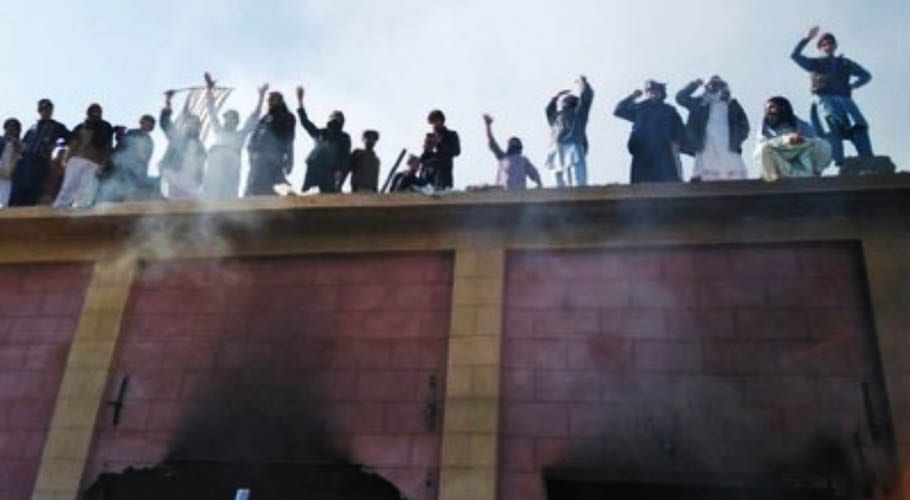 ISLAMABAD: Chief Justice of Pakistan (CJP) has taken notice of the incident of vandalism at a Hindu temple in Karak district of Khyber Pakhtunkwa.
According to a statement issued by the apex court, Patron-in-Chief of Pakistan Hindu Council Dr Ramesh Kumar called on the Chief Justice at the Supreme Court's Karachi registry and raised the issue of "desecration/burning of shrine of Hindu saint Shri Paramhans Ji Maharaj" by a mob in Karak on Wednesday.
The chief justice showed grave concern over the tragic incident and informed MNA Ramesh Kumar that he has already taken cognizance of the matter and has fixed it before a bench for hearing on Tuesday, January 5.
The top judge issued directives to the one-man commission on minorities rights KP chief secretary and Inspector-General Pakistan (IGP) to visit the site of the shrine and submit a report on Monday.
The incident occurred on Wednesday when a mob set the shrine of the Hindu saint on fire and demolished several parts in Teri area of Karak. Videos posted on social media showed a large crowd present at the site, chanting slogans and tearing down the walls of the shrine.
Several people led by some local elders of a religious party held a protest and demanded the removal of the Hindu place of worship. They raised slogans and attacked the shrines built before 1920. The mob also demolished an under-construction house owned by a member of the Hindu community
This was the second attack on the shrine; it was demolished in 1997 and rebuilt in 2015 on orders of the Supreme Court. Karak District Police Officer said the residents had issued a call for protest had guaranteed to remains peaceful. KP Chief Minister Mahmood Khan took had also taken notice of the incident and ordered concerned officials to take action against the culprits.
Human Rights Minister Shireen Mazari had also strongly condemned the burned of the Hindu temple. She said the KP government must ensure the culprits are brought to justice. She said her ministry was also moving on the incident. "We as a government have a responsibility to ensure the safety and security of all our citizens and their places of worship," she added.