Chinese vaccine trial to start in Pakistan soon: Asad Umar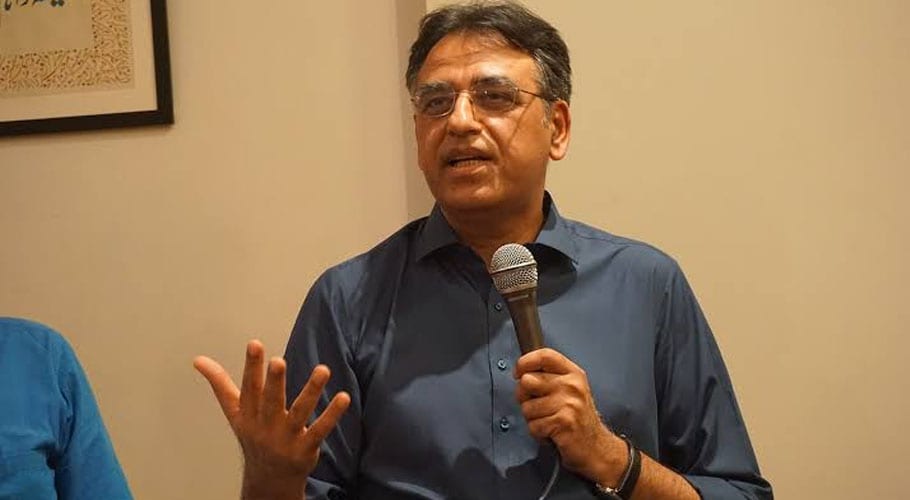 ISLAMABAD: Federal Minister for planning Asad Umar has said that the phase III trial of a Chinese vaccine for the COVID-19 will begin in Pakistan in 10 days.
On a social media website Twitter, Asad Umar said,  "Pakistan will be participating in phase III trials of a Chinese developed vaccine for coronavirus.".
The minister further said that the "trials in Pakistan will start in about 10 days time".
Pakistan will be participating in phase 3 trials of a chinese developed vaccine for corona virus. The trials in Pakistan will inshallah start in about 10 days time

— Asad Umar (@Asad_Umar) September 12, 2020
Earlier it was reported, that the falling COVID-19 infection numbers in Pakistan will not affect a Phase 3 clinical trial for a potential vaccine being developed by China's CanSino Biologics.
The report had also said that trials will begin this month, according to officials running the trial.
Pakistan's drug regulator last month gave the go-ahead for the country's first Phase 3 clinical trial for CanSino's candidate, Ad5-nCoV, which will be led by the government-run National Institute of Health (NIH) along with pharmaceutical company AJM — the local representative of CanSino. 
The Ad5-nCoV vaccine and placebo injections are due to be received in Pakistan next week. Daily positive cases in Pakistan peaked at more than 6,000 in June, but have since fallen sharply, with only 426 confirmed new cases detected on September 8 — taking its total to 299,659 and 6,359 deaths.
Three more people have died in Pakistan today due to the coronavirus, taking the death toll to 6,373.
According to the statistics released by the National Command and Operations Center, 548 more cases of the coronavirus have been reported in the past 24 hours, bringing the number of confirmed cases in the country to 300,955.
As many as 288,536 coronavirus patients have recovered from the disease, pushing the number of active cases down to 6,046. Around 29,534 samples were tested during the previous 24 hours, out of which 584 turned out to be positive.
Thus far, more than 2.8 million tests have been conducted across the country. At present, 1,012 patients are under treatment in 735 hospitals across the country, out of whom 93 are on ventilators.
Till now 131,115 coronavirus cases have been confirmed in Sindh, 97,461 in Punjab, 36,755 in Khyber Pakhtunkhwa, 13,227 in Balochistan, 15,804 in Islamabad, 3,137 in Gilgit-Baltistan and 2,356 in Azad Kashmir.
Furthermore, 2,436 individuals have lost their lives to the epidemic in Sindh, 2,213 in Punjab, 1,256 in Khyber Pakhtunkhwa, 145 in Balochistan, 177 in Islamabad, 73 in GB and 65 in Azad Kashmir.
The World Health Organization (WHO) has ranked Pakistan among the top seven countries in the world for dealing with coronavirus epidemics.