Everything China has done so far to help Pakistan fight COVID-19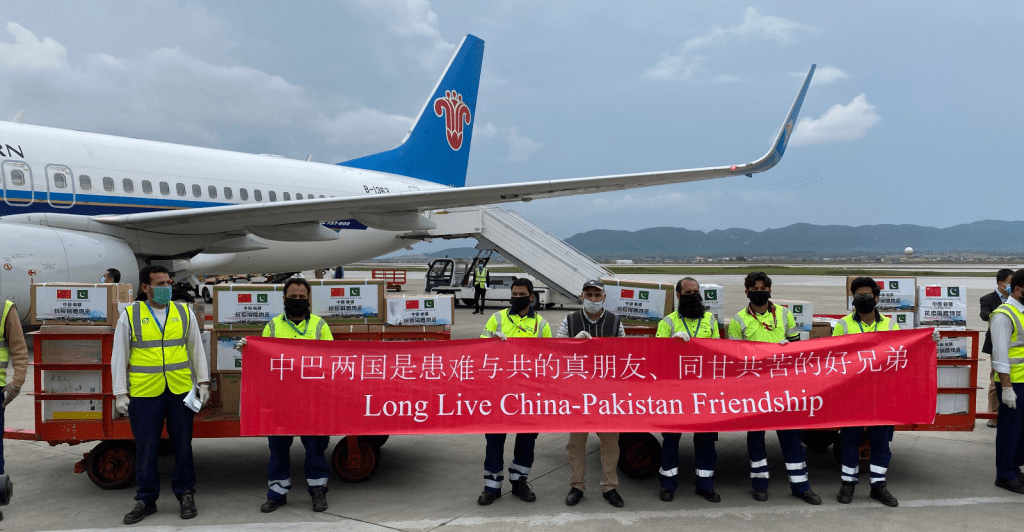 The novel coronavirus, Covid-19, emerged from the Chinese city of Wuhan and gradually spread to every single country in the world. Chinese has now effectively contained the virus due to a strict lockdown, eased restriction on movement and is now helping other countries including Pakistan to overcome the crisis.
Aid arrives at Khunjerab
Pakistan has received tonnes of protective gear and testing kits from China to contain the spread of coronavirus. The continuing and unprecedented assistance from China via air and road comes at a critical time as ill-equipped medical workers struggle to treat surging number of patients.
"At least 2 tonnes of masks, test kits, ventilators, medical protective clothes worth Rs67 million were handed over at Khunjerab Pass, according to a statement by Chinese embassy in Pakistan. "This is the friendship higher than mountains!" the embassy tweeted.
The trucks full of medical supplies arrived on Friday and were unloaded at the highest paved international border.
China in action:The Plane carried over 10,000 test kits, 10,000 N95 masks,1 lakh Disposable medical masks,5,000 Medical protective clothes, 5 ventilators, 11 Defibrillator monitors,& some 62,000 sets of drugs for treating COVID-19.#COVID19Pakistan #ChinaPakSolidarity https://t.co/Z5wza5r4wd pic.twitter.com/L5TF8OsKqF

— Chinese Emb Pakistan (@CathayPak) March 28, 2020
Medical supplies arrive in Islamabad
A Special Chinese plane carrying relief assistance and a team of doctors to fight Coronavirus arrived in Islamabad on Saturday, March 28, making it the third flight in a row to reach the country.
The Chinese doctors will remain in Pakistan for two weeks and advise health care specialists in the country in the light of their experience and success in battling Covid-19 in China.
China's assistance to Pakistan so far includes 12,000 test kits, three million masks, 10,000 protective suits and four million dollars to build an isolation hospital. The government of Chinese of Xinjiang has also provided 50,000 masks each to the federal capital as well as Sindh government.
🇵🇰 🇨🇳 Special Friendship

Special #Chinese plane with a team of medical professionals & relief assistance to fight #COVID19 landed in #Islamabad.

FM @SMQureshiPTI & FS Sohail Mahmood expressed deep appreciation to Govt. & people of #China for its timely support.1/3 @MFA_China pic.twitter.com/eclaF2pB5w

— Spokesperson 🇵🇰 MoFA (@ForeignOfficePk) March 28, 2020
Jack Ma, Alibaba send aid to Sindh
Chinese billionaire Jack Ma and Alibaba Foundation on Wednesday March 27 sent a cargo plane carrying medical equipment to Pakistan as part of part of the donation of medical supplies to 10 Asian countries.
This was the second bulk consignment sent by Chinese e-commerce giant Alibaba and Jack Ma Foundation within days. The Chinese Embassy in Pakistan said a cargo plane carrying N95 masks and other protective equipment had been dispatched to Karachi.
Sindh Chief Minister Murad Ali Shah, Consul General of China Li Bijian and other officials received the supplies at Karachi airport which consisted of 500,000 masks, including N95 masks, and 50,000 coronavirus test kits. CM Sindh said these masks and kits will be distributed all over the country.
A plane bound for Pakistan carrying N95 and surgical masks sponsored by China's @JackMa Foundation and the Alibaba Foundation has taken off. China is standing together with Pak through thick and thin!🇨🇳🇵🇰#COVID_19 #ChinaPakSolidarity @ForeignOfficePk @MFA_China pic.twitter.com/N2eIUCM060

— Chinese Emb Pakistan (@CathayPak) March 25, 2020
The Jack Ma Foundation said: "We hope the donation will strengthen Pakistan's fight against COVID-19 and prevent further community spread of the virus. We are committed to doing everything we can to make a difference, especially overcoming the tough logistical challenges for delivery and getting the medical supplies to where it is needed most as fast as we can."
Meanwhile, a plane carrying 56,000 coronavirus testing kits also arrived in Karachi on March 27. Sindh Governor Imran Ismail received the consignment of medical aid from China for fighting the coronavirus epidemic in the country on behalf of the federal government.
The governor said China had always supported Pakistan in all the testing times and was helping to overcome this challenge. He said the medical aid from China was a reflection of the ever-lasting friendship between both countries.
#ChinaPakSolidarity China in Action "Our two countries are true friends and good brothers who are always there for each other come rain or shine. China strongly supports Pakistan in fighting COVID-19": Amb Yao Jing @ArifAlvi @ImranKhanPTI @ForeignOfficePk @zfrmrza @MFA_China pic.twitter.com/fRkcIDmeQK

— Chinese Emb Pakistan (@CathayPak) March 28, 2020
Safety kits, equipment and other assistance
Chinese companies are helping Pakistan overcome the pandemic. Managing Director of Challenge Group of Companies from China called on Prime Minister Imran Khan to donate 15,000 protection suits for Pakistani doctors and paramedical staff on the frontline battling the pandemic.
China will help produce protections suit in Lahore to meet the increasing demand for protective gear. A Chinese university has agreed to work with medical experts to convert a university campus into a 1,000-bed field hospital in Lahore and would also develop testing kits and other equipment in Pakistan. The Chinese government is sending a walk-through testing machine to diagnose a large number of suspected people for coronavirus.
#UPDATE: The Chinese medical team consisted of eight experts have arrived in Islamabad, Pakistan. The team also brought 10,000 N95 masks, 100,000 surgical masks and 10,000 testing kits to support Pakistan. pic.twitter.com/OwgwotGxVo

— People's Daily, China (@PDChina) March 28, 2020
Pak-China friendship
Pakistan and China have a history of bilateral relations spanning over five decades. The friendship between the two countries is considered deeper than the Arabian Sea and higher than the Himalayas. China has made huge investments in the country including the China-Pakistan Economic Corridor (CPEC).
Chinese assistance to Pakistan during the battle against the coronavirus pandemic is another shining example of the strong relationship between the two countries. The people and government of Pakistan have expressed gratitude to China for their help during the difficult period.