Carnage as PSX plummets by over 1,600 points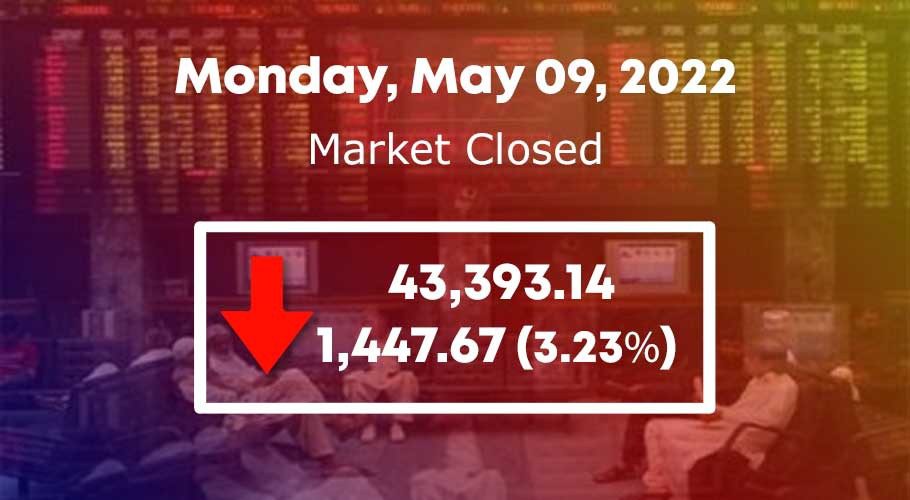 KARACHI: Pakistan Stock Exchange (PSX) witnessed carnage on Monday as it plunged by more than 1,600 points in intra-day trading on the first day of the week.
KSE-100 Index opened at 44,840.81 points but continued its downward trajectory throughout the day. The bourse had reached its lowest level of 43,233.21 points which represented an intraday decline of 1,608 points.
The bourse eventually decreased by 1,447.67 points, with a negative change of 3.23 percent, and closed at 43,393.14 points. The total volume of shares declined to 44.84 million valued at Rs 7.71 billion.
Of the 96 traded companies in the KSE100 Index 6 closed up 89 closed down, while 1 remained unchanged. The only sectors propping up the index were Sugar & Allied Industries with four points.
Sector wise, the index was let down by Commercial Banks with 305 points, Cement with 237 points, Technology & Communication with 183 points, Oil & Gas Exploration Companies with 130 points and Fertilizer with 104 points.
The lower bench KSE-30 index decreased by 622.05 (-3.63%) and closed at 16,526.48 points. The total volume of shares were 96.273 million. The KMI 30 index plunged by 2,956.67 points (-4.05%) and closed at 70.032.84 points, while the All Share Index declined by 890.11 points (-2.92%) and closed at 29.590.19 points.
The highest number of shares traded belonged to Lotte Chemicals Ltd (LOTHCEM 2.19%) which traded 27.005 million shares. This was followed by Cnergyico Pk Ltd (CNERGY -9.00%), WorldCall Ltd (WTL -6.55%), Telecard Ltd (TELE -7.28). The number of scrips traded were 23.858 million, 20.975 million, and 11.495 million, respectively.
The PSX tumbled after global equities tumbled due to concern over inflation, possible recession and tightening lockdown in the Chinese cities of Shanghai and Beijing. Investor confidence was knocked by the higher commodity prices and uncertainty regarding the 7th review of the IMF program
On the economic front, the country's trade deficit ballooned by 64.79% to stand at $39.36 billion during the first ten months of the current fiscal year, mainly due to an exponential growth in imports and slow growth in exports. Foreign exchange reserves continued to decline and reached $16.55 billion after a $115mn decline during the week.
In addition, the Pakistani rupee continue downward journey in the interbank market. The dollar was trading at Rs188.5 in the interbank as the rupee depreciated by Rs1.25 while the open market rate of the greenback was Rs187.8.
The government is expected to resumed talks with the IMF after May 18. There is also the risk of interest rates rising in the next monetary policy which has dampened investor confidence.