Bodybuilding hobby of rich, not poor says national champion Shahzad Qureshi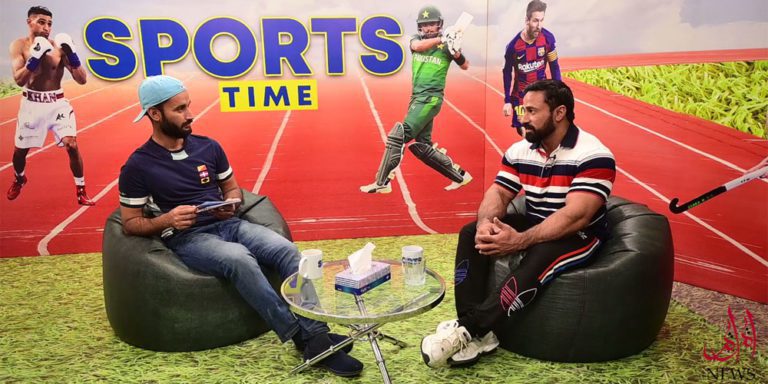 Sport is very important in human lives as it teaches mental and physical health as well as discipline and keeps a person away from negative activities.
Sports activities are gearing up in Pakistan and if you look only at bodybuilding, the trend is increasing day by day.
Today, we would like to introduce you to one such bodybuilder who has made a name for himself not only in Pakistan but also internationally. There will be no title that he may not have, Mr. Pakistan, Mr. Sindh, Mr. Karachi and recently won a silver medal in the World Body Championship and he has made Pakistan proud.
MM News arranged a special meeting with Shehzad Ahmad Qureshi.
MM News: You participated in the Tashkent Competition for the first time, tell us a little bit about it?
Shehzad Ahmad Qureshi: It was the first time that I had been out of the country. There were prayers from the friends of family members. At first I was a little nervous because there were so many players but later as the days went by my confidence increased.
MM News: As you said that it was your first competition, what do you think Pakistan is lagging behind in the international arena?
Shehzad Ahmad Qureshi: I think if someone gets a chance to play internationally at some point in his life, he should not miss that chance because unless you go out and play, your morale will not increase, I think Good morale greatly affects the performance of the game.
MM News: How did you become interested in bodybuilding?
Shehzad Ahmad Qureshi: My elder brothers used to do bodybuilding. Seeing them, I developed a passion for bodybuilding and my brother also has a gym. Was born I started doing bodybuilding in 2008.
MM News: At what age do you think one should start a gym for bodybuilding?
Shehzad Ahmad Qureshi: No, there is no age for bodybuilding, you can do bodybuilding at any age, my brother is 48 years old, he has just lost weight and also does bodybuilding, now someday before, he also won a title. By the way, if one wants to start bodybuilding, he can start from the age of 16.
Read more: Money the main reason music bands break up, says singer Rahim Shah
MM News: Is it easy to be a bodybuilder?
Shehzad Ahmad Qureshi: No, not at all easy because a bodybuilder has to follow a good and expensive diet, so it is only a hobby of rich people, poor people cannot do bodybuilding.
MM News: What do you think bodybuilding competition is like, difficult or easy?
Shehzad Ahmad Qureshi: Bodybuilding competition is very difficult because you do not go there alone to prepare, the rest of the athletes also come prepared so it is difficult.
MM News: Is it necessary to take a trainer to do gym?
Shehzad Ahmad Qureshi: It is very important to take a trainer and no one can train properly without a trainer, so it is better that you take a trainer from the beginning because he will guide you properly about everything.
MM News: What diet should be followed for bodybuilding?
Shehzad Ahmad Qureshi: You should have a good diet because if you do not follow a good diet, your body will become weak from within.
MM News: Does doing bodybuilding keep you tall because most people say that doing bodybuilding keeps you tall?
Shehzad Ahmad Qureshi: No, people think wrongly that bodybuilding stops one's height while bodybuilding increases one's stature.
MM News: How long does it take a player to prepare for any competition?
Shehzad Ahmad Qureshi: It takes at least two or three months, but the silver medal I just won, I prepared for the competition in just 22 days, if more days were found, maybe the competition would win.
MM News: How did you feel when you won the competition title?
Shehzad Ahmad Qureshi: It was very, very good. I was so happy at that time that I can't even describe it in words because the joy of winning at the international level is different.
MM News: What is your favorite pose in bodybuilding?
Shehzad Ahmad Qureshi: My favorite pose in bodybuilding is mass muscular, in which the whole body is visible.
MM News: The role in the bodybuilding that you want to eliminate?
Shehzad Ahmad Qureshi: I want to remove the role of judges from all competitions or if they are, they should take an oath that they will make all decisions on merit.
MM News: One day you wake up and find out that you have a superpower, what will you do?
Shehzad Ahmad Qureshi: I will take the whole federation in my hands and then give rights to all the players, I will not give up the rights of anyone because I know how hard a bodybuilder works.
MM News: What about the junk foods that are eaten nowadays?
Shehzad Ahmad Qureshi: It is poison, it destroys your body from inside and the most dangerous is red chilies, so try not to eat red chili foods and junk foods even if you ever want to eat junk food. They should eat homemade because the marketers do not know which oil they use, so it is better not to eat junk foods.
MM News: How do you think the talent in Pakistan should be headed?
Shehzad Ahmad Qureshi: Bodybuilding has so much talent in Pakistan that if it is supported properly, people will forget about cricket. Because if a person is doing bodybuilding in Pakistan then he is doing it only at his own expense and for how long he will do it, he also has to run the house, so there comes a time when due to lack of support bodybuilder, Quit bodybuilding.
MM News: Any message you want to give to people?
Shehzad Ahmad Qureshi: My message to all is to take care of your health, go to the gym, ignore outside food because it worsens your health.