Army chief congratulates Nepali climbers for summiting K-2 in winter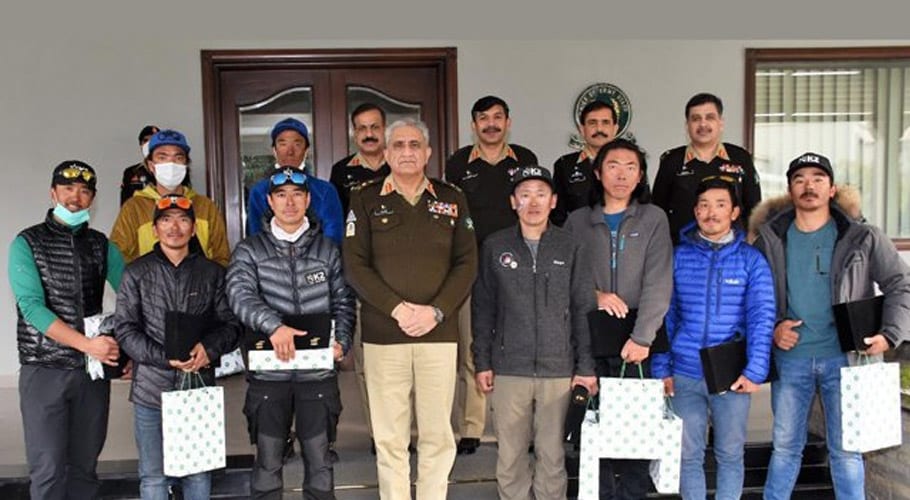 RAWALPINDI: Chief of Army Staff General (COAS) General Qamar Javed Bajwa has congratulated Nepali climbers on setting a record for climbing the world's second-highest peak for the first time in winter.
A team of Nepalese climbers called on Chief of Army Staff General (COAS) General Qamar Javed Bajwa today, said the Inter-Services Public Relations (ISPR).
The army chief congratulated the team of the climbers for achieving the feat as they were the first to scale the second highest mountainous peak in the globe, the ISPR said.
Sharing the details of the meeting, the army's media wing said that the climbers shared their experience of ascending the K2 with the COAS Qamar Javed Bajwa.
"They also expressed their gratitude to the people of the country for extending a warm welcome and hospitality towards them," it said while adding that the climbers also thanked the Pakistani authorities over the provision of facilities that helped them in achieving the milestone.
On January 16, a team of Nepalese climbers broke the previous record during winters of climbing as high as 26,000 feet while attempting to scale K2, according to a trekking company leading one of the expeditions.
As per the Alpine Club of Pakistan (ACP), the maximum height achieved by teams in winters in the past was 25,320 feet. Dozens of mountaineers have been competing over the past few weeks to summit the world's second-highest mountain, the last peak above 8,000 metres to be topped in wintertime.
"WE DID IT," tweeted Seven Summit Treks. "The Karakorum's 'Savage Mountain' been summited in most dangerous season: winter. Nepalese climbers finally reached the summit of Mt K2 this afternoon at 17:00 local time," it added.
Since the maiden attempt in 1987-1988, just a handful of winter expeditions have been attempted on the storied 8,611-metre (28,250-feet) mountain in the Karakoram range along the Chinese border.
None had got higher than 7,650 metres until Saturday when the good conditions allowed the climbers to push ahead. This winter an unprecedented four teams totalling around 60 climbers converged on the mountain, more than all the previous expeditions put together.
Known as the "savage mountain", winds on the peak can blow at more than 200 kilometres per hour (125 miles per hour) and temperatures drop to minus 60 degrees Celsius (minus 76 Fahrenheit).