Apple launches iPhone 12 with 5G, HomePod Mini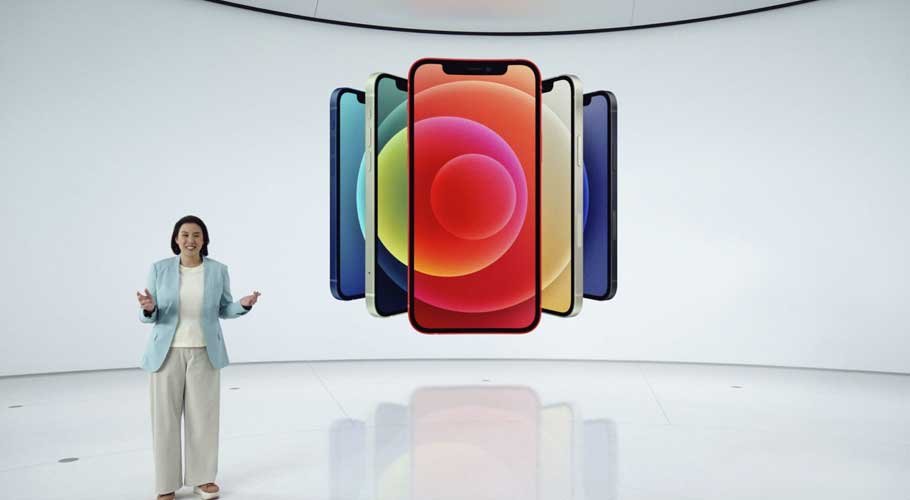 (REUTERS): Apple Inc today (Tuesday) has launched the iPhone 12 with faster 5G connectivity, which the company hopes will spur a wave of upgrades.
CEO Tim Cook unveiled the new generation of iPhones in a virtual event, saying that all new phones from the company would have 5G capability, the fastest variant of the technology, as well as lower-frequency bands.  
"Every decade there's a new generation of technology that provides a step-change in what we can do with our iPhones," Cook said, adding, "This is a huge moment for all of us."  
The iPhone 12, with a 6.1-inch display, has flat sides with a flush display, similar to the company's iPhone 5, and a departure from rounded edges in recent years. The new phone will have a 'ceramic shield' glass cover to resist cracks when dropped.
Apple said that the iPhone 12 will feature the A14 Bionic chip, promising processing and graphics that are 50% faster than other smartphones.
The camera will include a faster aperture, which means huge improvements to low-light performance and features like Night Mode, allowing it to capture more light in an image. Night Mode will also add a time-lapse option.
Cook promises faster downloads, better security, improvements in gaming, and other breakthrough innovations. However, the charging cables will no longer come automatically with iPhones as Apple moves toward wireless charging by default.
Revealing the prices of iPhone 12, Tim Cook said that iPhone 12 would start at $799, with a mini version available starting at $699. "The higher-end iPhone 12 Pro with advanced photo capabilities will start at $999 and larger iPhone 12 Pro Max at $1,099," he added.  
HomePod Mini smart speaker
Apple CEO Tim Cook kicked off the event not with the iPhone, but the smart speaker HomePod Mini. "It's critical that the technology we use for our home provides a truly great experience," said Cook.
Apple announced the HomePod Mini smart speaker that will come in white and gray, cost $99, and be shipped starting November 16. The Mini will include computational audio, which applies to tune models to bolster the sound.
The new HomePod offers other features like allowing use by multiple users in a home and sending information to car-based systems. Many of the features serve as a catch-up to similar offerings from Amazon.com Inc and Alphabet Inc's Google.
The annual launch event is nearly one month later than normal and comes as the coronavirus pandemic has disrupted Apple's well-oiled machine for designing and churning out its biggest-selling product.