Akram Durrani requests IHC for bail in assets beyond income case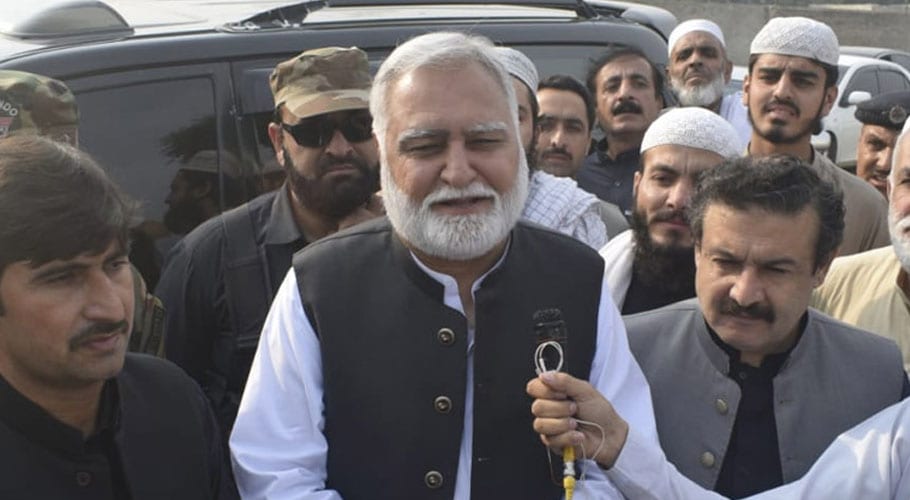 ISLAMABAD: Jamiat Ulema-e-Islam (JUI-F) senior leader Akram Durrani has requested the Islamabad High Court (IHC) to grant him bail in the assets beyond income case.
Akram Durrani is currently facing probe in connection with assets beyond known sources of income, illegal recruitments, and allotment of plots for the mosques.
Read more: NAB summons Akram Durrani in multiple corruption cases
The JUI-F leader appeared before the High Court as his interim bail ends today.
A two-member bench of the high court comprising Chief Justice IHC Justice Athar Minallah and Justice Miangul Hassan led the bench hearing the proceedings.
The National Accountability Bureau (NAB) officials submitted a report in the case, not opposing bail plea of Durrani in assets beyond means and illegal allotment cases.
Also read: IHC approves Akram Durrani's pre-arrest bail plea
They said that the NAB authorities were directed from the IHC to submit a report on the matter before today's proceedings but after a delay, it was finally submitted today later.
On the other hand, while talking to media outside the IHC, Durrani told the reporters that his party would begin implementation on 'Plan C' from Friday with country-wide protest demonstrations.
Also read: Ready to talk with govt over Azadi March: Akram Durrani
Durrani had served as the Chief Minister of Khyber Pakhtunkhwa from 2002 to 2007. He was also a federal minister for Housing and Works in the cabinet of Prime Minister Shahid Khaqan Abbasi from August 2017 to May 2018.
Last year, NAB Chairman Justice retired Javed Iqbal had ordered an inquiry against Akram Durrani over misuse of power and illegal allotment of plots.
Also read: Govt, opposition committee to resume talks today
Durrani was re-elected to the Provincial Assembly of Khyber Pakhtunkhwa as a candidate of Muttahida Majlis-e-Amal (MMA) from PK-90 Bannu constituency in the 2018 general election.
Akram Durrani became the leader of the opposition in the KP provincial assembly in October last year.