Afghan parties urged to reach negotiated settlement, reduce violence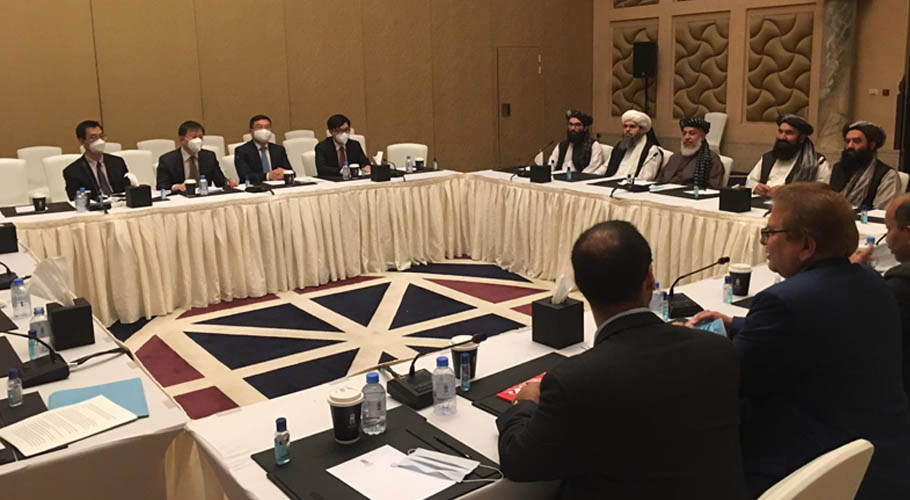 DOHA: The extended Troika on peaceful settlement in Afghanistan – the United States, Russia, China and Pakistan – in a joint statement expressed hope that the Taliban will prevent terrorist groups from using Afghan territory to threaten the security of other countries.
The extended Troika met in Doha, Qatar on Friday with representatives from the Afghan government and the opposition Taliban movement to support peace negotiations and help the parties reach a settlement.
"We expect the Taliban to fulfill its counterterrorism commitments, including preventing terrorist groups and individuals from using Afghan soil to threaten the security of any other country; not hosting these groups and preventing them from recruiting, training, and fundraising," the statement said.
The statement acknowledges the widespread and sincere demand of the Afghan people for a lasting and just peace and an end to the war.
It reiterated that there is no military solution in Afghanistan and a negotiated political settlement through an Afghan-led and Afghan-owned process is the only way forward for lasting peace and stability in Afghanistan.
The meeting took note of the April 14 announcement by the United States and NATO that all forces will begin a responsible withdrawal from Afghanistan by May 1 that concludes by September 11.
"We reiterate that the withdrawal of foreign troops should ensure a steady transition of the situation in Afghanistan. We stress that, during the withdrawal period, the peace process should not be disrupted, no fights or turbulence shall occur in Afghanistan, and the safety of international troops should be ensured," it added.
The 'troika' called on all parties to the conflict in Afghanistan to reduce the level of violence in the country and on the Taliban not to pursue a Spring offensive.
"We condemn in the strongest terms any attacks deliberately targeting civilians in Afghanistan and call on all parties to respect their obligations under international humanitarian law in all circumstances, including those related to protection of civilians," it added.
It called the Afghan government to engage openly with the Taliban regarding a negotiated settlement, saying they do not support the establishment in Afghanistan of any government imposed by force.
The meeting noted the preparations by Turkey to host a conference of senior leaders of both Afghan parties in order to accelerate the intra-Afghan negotiations. It called upon the negotiating parties to make progress toward an inclusive political settlement and a comprehensive and permanent ceasefire.
It called on all Afghans including the Taliban to ensure that terrorist groups and individuals do not use Afghan soil to threaten the security of any other country.