Navel Chief inaugurates spring tree plantation campaign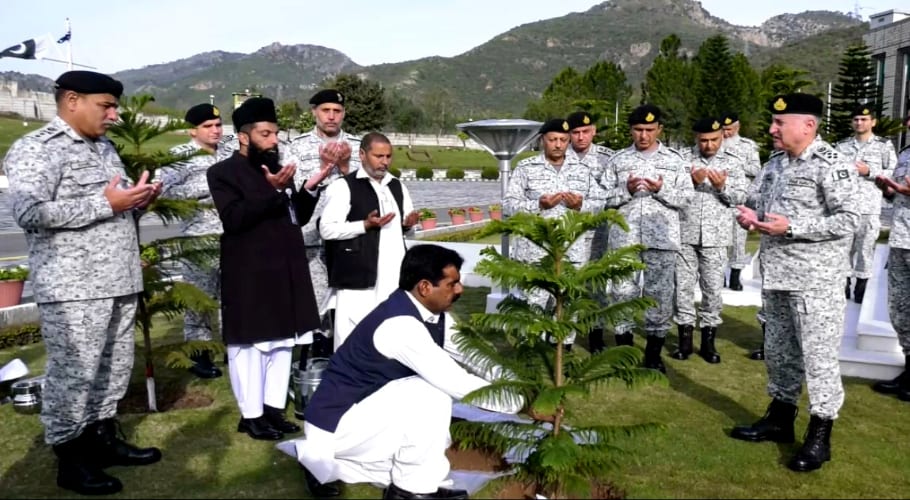 ISLAMABAD: Chief of Naval Staff Admiral Zafar Mahmood Abbasi said mutual efforts are required to battle the persistent and serious threats of climate change.
These views were expressed by Chief of Naval Staff while launching the spring tree plantation drive in Naval Head Quarters Islamabad today.
Admiral Zafar Mahmood said the Navy has always played its due role in improving the ecosystem across the country.
He further said Pakistan Navy is promoting a farming drive to boost the forest area in the country and mitigate the effects of global warming.
Moreover, a Naval spokesperson citing the occasion said that the spring tree plantation campaign a chance to strengthen our connection with nature.
The Pakistan Navy has set a target of planting more than 4 million plants across the country this year following previous successful farming drive, the spokesman said.
The spokesman said forestation is very important for our socio-economic development and a sustainable ecosystem. For years, besides contributing to food, fiber resources and livelihood, trees are instrumental in mitigating the adverse effects of climate change and natural disasters.
Despite the efforts to encourage a greener world, deforestation mostly due to overpopulation, urbanization, agricultural growth and industrialisation to name a few, has severely damaged the atmosphere.
It is, therefore, crucial to control deforestation through institutionalized steps. Earlier, Pakistan Navy has planted four million mangroves in the coastal belt and 700,000 trees at the Pakistan Navy units and establishes spread across Pakistan in the last three years.