Road accidents in Balochistan claim 2 lives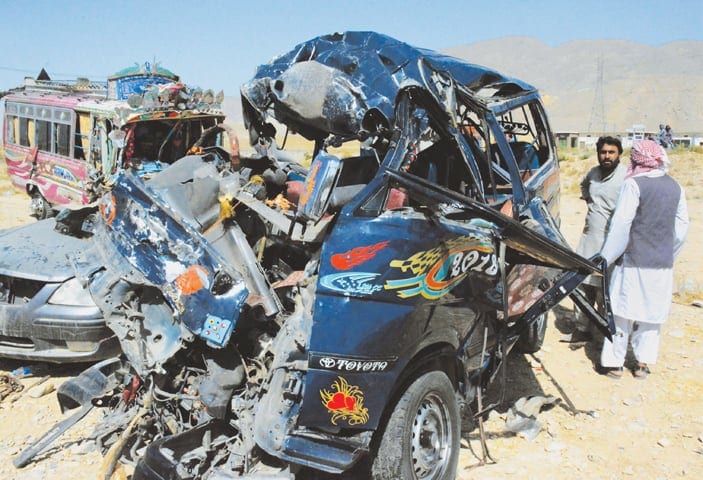 QUETTA: Two people died, including Deputy Director of Civil Defence Nasirabad, and 22 others suffered injuries in three different road accidents in Balochistan on Monday.
 The sources stated, an official of Civil Defence Nasirabad Syed Imtiaz Shah was traveling with Muhammad Siddiq and Muhammad Ramzan in a vehicle when a truck, coming from the opposite direction hit it. The accident took place on National Highway near the Dhadar area of Bolan district. Syed Imtiaz Shah died on the spot while the other two were injured.
The victims were driven to a nearby hospital. A truck carrying members of a family from Sibi was on the way to Lehri when it overturned on National Highway due to speeding in second incident.
As a result of the accident, 20 people sustained injuries. The injured were rushed to Sibi district headquarters hospital for treatment. Four of the accident victims were reported to be in serious condition.
The third incident took place in Quetta where the victim, Izatullah, was hit to by a vehicle at Balily and he was pronounced dead when he reached the hospital.
In a separate incident, a Jamat e Islami's vehicle carrying political workers to Quetta's Kashmir/Balochistan March toppled over in Notal, leaving one worker dead and 10 injured.
"A vehicle in JI's convoy toppled over due to tire burst at a turn near Notal Highway," police informed the local newspaper. "The deceased JI worker has been identified as Khuda Buksh Badini."