Fake bank case: Zardari, Talpur's judicial remand extended till Dec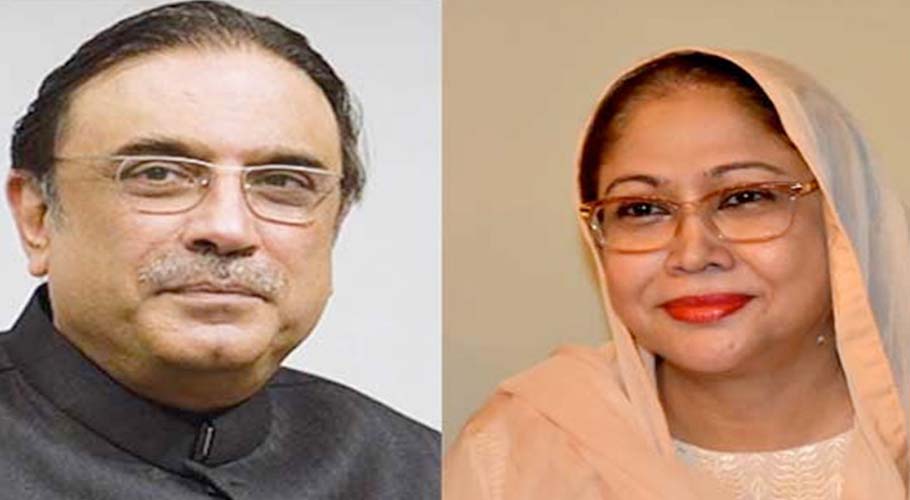 ISLAMABAD: An accountability court has extended the judicial remand of former president Asif Ali Zardari and his sister Faryal Talpur till 17thth December in the fake account case.
Asif Ali Zardari has been undergoing medical treatment at the Pakistan Institute of Medical Sciences (PIMS) of Islamabad which has been declared a sub-jail.
Zardari was not taken from the hospital to the accountability court due to his poor health. The lawyer informed the court that it was not possible to present Zardari due to his deteriorating health.
Read more: Will not accept selected rulers, says Bilawal Zardari
The brother-sister duo is among 30 accused nominated in the reference filed by the National Accountability Bureau (NAB).
Both Zardari and Talpur were arrested by the accountability bureau earlier this year on charges of laundering billions of rupees through fictitious accounts.
The money laundering case refers to the embezzlement of Rs4.4 billion.
The NAB has accused Zardari and Talpur of being involved in extending the loan and its misappropriation by M/s Parthenon Private Limited, M/S Park Lane Estate Private Limited and others.
Also read: Zardari to remain in hospital for another two days
The Park Lane reference has been registered against Zardari and Talpur under different sections of the National Accountability Ordinance, 1999, and the Anti-Money Laundering Act, 2010.