Yoga is for everyone: Zarmina Faisal on yoga, mindfulness and more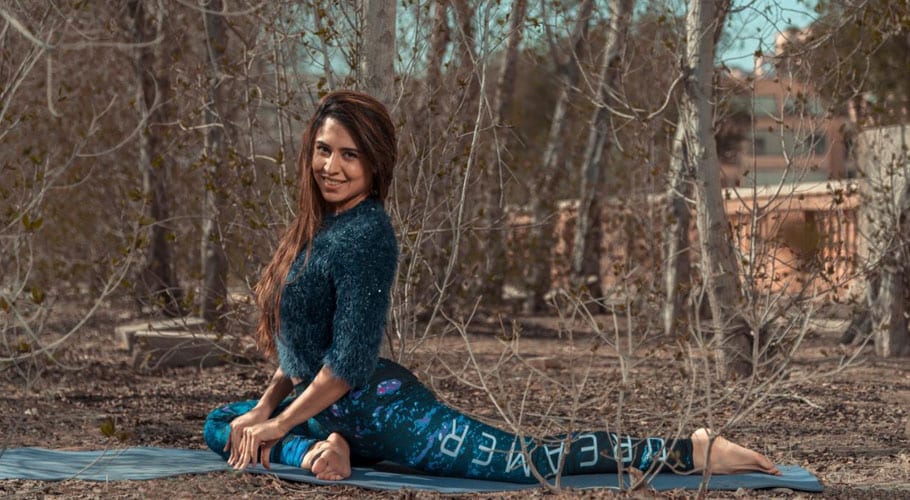 Yoga has been around for centuries and is fast gaining popularity in Pakistan too. Many see it as a means to stay fit, while others turn to the mat for a peace of mind. 
We spoke to certified yogi and nutritionist Zarmina Faisal about her journey and everything that you need to know to decide if yoga is something you want to try too. 
MM: What inspired you to become a yogi?
Zarmina Faisal: We live in such a fast-paced world, our lives are so hectic and for me, my anxiety really caught up to me. Then one day I attended a yoga class. It made me feel a lot more grounded, and the more I got drawn to it, the more it became my safe space. The more I explored it, the more I felt myself rediscovering parts of myself that I had forgotten. Once it became a lifestyle, there was no turning back. Anytime I'm feeling disconnected with myself, I step on my mat and it helps bring me back.
MM: Where did you begin training and what was the journey like?
Zarmina Faisal: I began my practice 11 years ago, at Body Beat studio in Karachi. I've since then explored many different instructors and styles, and eventually went for my own yoga teacher training to Bali in 2016. For me, Yoga has been a journey of deepening my connection to myself, and to the universe.
MM: Some common misconceptions people have about yoga are?
Zarmina Faisal:  1) That yoga is 'easy'. 2) That yoga it's for a particular type of person. Yoga is for everyone!
MM: Three immediate benefits of starting yoga today?
Zarmina Faisal: 1) You walk out of a yoga class immediately feeling more connected to yourself – that energy translates through the rest of your day. 2) Calmer heart and mind 3) Better sleep
MM: Three things anyone beginning yoga must keep in mind?
Zarmina Faisal: 1) Everyone is unique, your journey on your mat is your own. 2) Breath is everything. 3) Trust the process.
MM: Yoga is only for flexible people: true or false?
Zarmina Faisal: False – Yoga is for everyone. So many people hold back from yoga because of this misconception. Your body will only go where your mind will let it, it's the rigidity of your mind you need to release- the body will follow. All yoga requires from you is that you show up.
MM: Many people see yoga as feminine- not meant for men- what do you think?
Zarmina Faisal: Yoga is a complete system, a beautiful balance of sun and moon, yin and yang, masculine and feminine – there are certain styles that might appeal to males or females but really, that comes down to individual choice.
MM: Can yoga help an individual lose weight?
Zarmina Faisal: Weight is subjective and dependent on so many different factors, so there's no one answer to that question. What Yoga can help you do is help you make mindful decisions regarding nutrition, sleep, movement, and overall health, and that can impact your weight and your life.
MM: Did becoming a yogi change your life?
Zarmina Faisal: I wouldn't say yoga changes your life or you as a person; rather, it helps you discover your own truth and live your own best life.
MM: Your advice to people still unsure about trying yoga?
Zarmina Faisal: Appreciate the journey of getting to know yourself better, the best part of it is on the inside, in the healing awareness and unity of your mind, body, and soul.